Lima, Jan 4 (EFE).- Former Peruvian President Alberto Fujimori on Thursday left the Centennial Clinic in Lima, where he had been hospitalized for 12 days after having been granted a pardon by the current president in December.

Fujimori left the clinic, located in the district of Pueblo Libre, in a wheelchair and was accompanied by his youngest son Kenji Fujimori and his colleagues.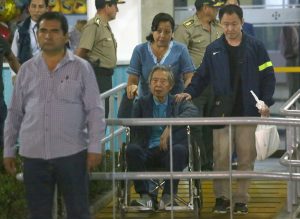 Guarded by state security agents, the 79-year-old who was president from 1990 to 2000, greeted journalists before leaving.

During his stay in the clinic, Fujimori was treated for his health problems, which were used to justify his pardon.

Fujimori entered the clinic with blood pressure problems one day before the current president Pedro Pablo Kuczynski granted him the pardon.

According to the former general director of human rights of the Ministry of Justice, Roger Rodriguez, such health conditions have never qualified for a humanitarian pardon before.

According to the Executive, the petition for Fujimori's pardon was presented in December 2017, days before the beginning of the impeachment process against Kuczynski for his alleged links with the Brazilian construction company Odebrecht.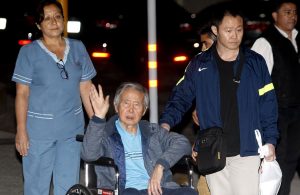 The head of state survived impeachment thanks to the abstention of Kenji Fujimori and nine other legislators from Fujimori's Popular Force Party, although the rest of the party members voted in favor of Kuczynski's dismissal.

The pardon was granted three days after the failed impeachment, which led the opposition to allege that there was a deal between the president and Kenji Fujimori.

Hours before Fujimori's departure from the clinic, around 100 followers went to Kuczynski's house to thank him for Fujimori's pardon.

In 2009, Alberto Fujimori was sentenced to 25 years in prison for the Barrios Altos and La Cantuta massacres in 1991 and 1992, in which 25 people were murdered by the undercover military group Colina, and for the abduction of a journalist and a businessman.