New York, USA, Jan 4 (EFE).- A powerful winter storm packing heavy snow and strong winds began battered New York City and its surrounding area early Thursday, with classes suspended at schools and emergency teams working intensely to respond to the weather event.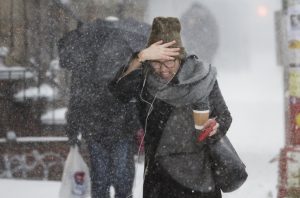 It was the heaviest storm of the season so far, and the snow began falling in the early-morning hours on Long Island (where the New York City boroughs of Brooklyn and Queens are located) and in New Jersey before coming down heavily in Manhattan during morning rush hour at around 7:30 am and lasting for the next eight hours.

Both JFK and LaGuardia airports had to suspend their operations with the former cancelling 500 flights and the latter 600.
The Newark, New Jersey, airport remained open but had to cancel more than 1,000 flights.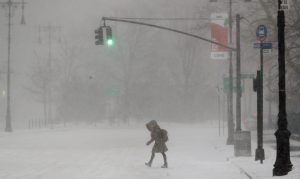 Although no fatalities were reported in New York and its environs during the day, in other parts of the country the storm killed at least six people, according to official sources.
New York Mayor Bill de Blasio at a press conference called it a "very very severe" storm" bringing strong winds and low temperatures.

New York Gov. Andrew Cuomo declared a state of emergency in several areas, including New York City, shortly after the storm commenced and the move allows state authorities to make decisions that override those of local administrations as well as to exercise special powers to deal with the situation without getting prior legislative approval.

"This is not a normal snowstorm … It's snow plus the wind which is going to cause the trouble today," Cuomo said at a press conference.

According to official figures, parts of Central Park received 20 centimeters (8 inches) of snow by early morning, while Suffolk County, on Long Island, the most exposed area, received up to 35 cm (14 in.)

The storm also brought wind gusts of up to 100 kilometers (62 miles) per hour, creating a serious problem for snow equipment and personnel working on the roadways.

Although the snow stopped falling at mid-afternoon, Friday and Saturday are expected to bring a sharp drop in temperatures, motivating both Cuomo and De Blasio to reemphasize to the public the risks inherent in such bad weather conditions.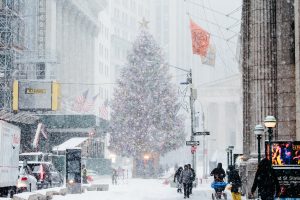 Forecasts are that the thermometer may fall to -29 C (-20 F), especially on Friday night and early Saturday morning.

The New York subway system, which serves some six million people per day, remained open, although with significant delays, just like the regional train lines.

New York authorities said that more than 80 traffic accidents resulted from the poor weather conditions on Thursday, although most of them were low-velocity crashes.

Meanwhile, in North Carolina storm-related incidents – mainly vehicle crashes – killed three people, while in Virgina two people died and in South Carolina another person lost their life.