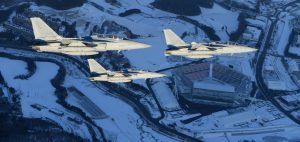 Washington, Jan 4 (EFE).- The White House on Thursday confirmed that President Donald Trump earlier in the day agreed with his South Korean counterpart, Moon Jae-in, to postpone the two countries' annual joint military maneuvers until after the PyeongChang Olympic Games amid a period of relaxation of tensions between the two Koreas.

In a statement, the White House announced that Trump and Moon had spoken by telephone hours after the South Korean government said that the two nations had decided to postpone the military exercises.

"The two leaders agreed to de-conflict the Olympics and our military exercises so that United States and Republic of Korea forces can focus on ensuring the security of the Games," said the White House.

The decision comes after North Korean leader Kim Jong-un expressed in a New Year's message his desire for his country to participate in the Winter Games to be held in South Korea's PyeongChang region and same-named city from Feb. 9-25, the period during which Seoul and Washington normally hold their yearly military readiness exercises.
Trump also told Moon that the US will sent a "high-level delegation" to the event because their two nations are "committed to a safe and successful 2018 Winter Olympic Games."

The two leaders also discussed "recent developments on the Korean Peninsula" and agreed to "continue the campaign of maximum pressure against North Korea and to not repeat mistakes of the past," according to the White House.
Meanwhile, Trump on Thursday took credit in a Twitter post for the recent signs of accommodation between the two Koreas.

"With all of the failed 'experts' weighing in, does anybody really believe that talks and dialogue would be going on between North and South Korea right now if I wasn't firm, strong and willing to commit our total 'might' against the North. Fools, but talks are a good thing!" Trump tweeted.

Seoul has responded to the overture by Pyongyang, with which technically it has been at war for more than 65 years, by proposing high-level talks on Jan. 9 to discuss the North's possible participation in the Olympics, although the communist regime still has not commented on the subject.

An accommodation between the two countries could contribute to alleviating bilateral and regional tensions after a months-long spate of weapons testing by Pyongyang and the belligerent responses by Trump in 2017.