Havana, Jan 8 (EFE).- Chilean President Michele Bachelet on Monday met with Cuban leader Raul Castro and hailed the increase in trade ties between her country and the communist island, which at present show positive results but are still not living up to their potential, particularly in the investments field.

On Monday afternoon, Bachelet was welcomed to the Palace of the Revolution, Cuba's seat of government, where she met with Castro, who is also in the final stretch of his mandate and due to hand over power to his designated successor in April.
Authorities have not yet announced what subjects the two leaders discussed during their meeting.

Not appearing on Bachelet's official trip agenda is any meeting or encounter with representatives of Cuba's internal dissident movement, a fact that sparked veiled criticism from Chile's conservative president-elect, Sebastian Piñera, who said at a press conference in Santiago that if he had visited Cuba he would have met with the opposition there.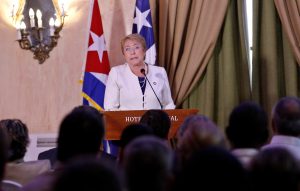 Bachelet began the second day of her state visit to Cuba, the next-to-last foreign tour while still in office, with the inauguration of the seminar "Trade and Investment Perspectives: Chile-Cuba," during which government officials and entrepreneurs will discuss the sectors in which trade ties can be established or increased and the instruments available for doing so.

"Chilean business owners and executives have vigorously expanded their activities throughout Latin America with accumulated investments above $104 billion, and Cuba should not be left out," the president said.

Chilean exports to the island were valued at $35 million in 2016, double the amount in 1996, and involved more than 60 companies in the South American country, of which 21 percent were small and medium-sized firms.

Meanwhile, exports from Cuba to Chile went in a decade from $1.4 million to the $4.3 million reached in 2016, while the number of Chilean tourists who visited the Caribbean country went from 17,500 in 2010 to 49,000 in 2015, Bachelet said.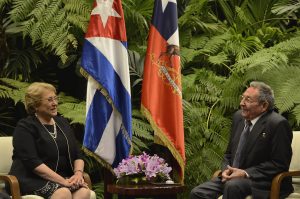 The president judged these figures positive but "insufficient considering the great potential offered us by our growing trade ties, but above all by our cooperation and friendship."

The Chilean head of state listed the great many opportunities in the field of investments thanks to Cuba's "new regime of facilities and legal security for investors and, very particularly, thanks to the Mariel Special Development Zone."

Cuba, whose state-run economy has traditionally aroused the distrust of foreign investors for its lack of legal protection, approved in 2014 a new Law of Foreign Investment that seeks to resolve that problem.

The island has also gone all out to promote its star project for attracting foreign capital, the Mariel Special Development Zone (ZEDM), at 45 kilometers (28 miles) west of Havana and which includes a merchant port, container terminal and a large business center with tax advantages.

Like Bachelet, Cuban Foreign Trade Minister Rodrigo Malmierca said the Cuban government isn't satisfied with the current volume of bilateral trade because "the potential exists to improve it."