Los Angeles, Jan 9 (EFE).- At least eight people died Tuesday as a result of heavy rains in southwestern California, an area scorched by fires in December but which is now experiencing landslides and flooding.

The heavy rains in the northwestern part of Los Angeles resulted in rivers of mud and debris that destroyed several homes.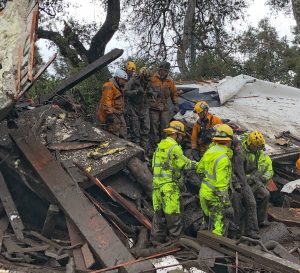 That was the presumed cause of the deaths of the eight people whose bodies were found in the mud near the coastal town of Montecito, according to Santa Barbara County Sheriff's Department spokeperson Kelly Hoover, who provided no further details, The Los Angeles Times reported.

According to county Fire Department spokesman Mike Eliason, at least three homes were swept away by the floodwaters near Montecito.

The death toll could rise, given that the Fire Department is continuing with its rescue operations, efforts in which trained dogs are being used to find missing people and/or sniff out bodies.

The rains forced authorities to close several highways, evacuate thousands of people and perform numerous rescues, such as that of a 14-year-old girl who was trapped for hours in her house in Montecito, which was destroyed by the flooding.

The destruction left by the serious fires across broad areas of the state made it possible for the water dumped by the storms to gather up and sweep along a wide range of debris and burned vegetation, especially in the southern part of California.

Evacuation orders have been issued in parts of Montecito and Carpinteria that were affected by the recent fires, Santa Barbara County spokesperson Amber Anderson told EFE.

Those orders were issued for some 20,000 people living in both Santa Barbara and Ventura Counties.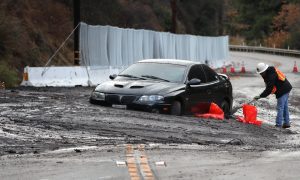 The National Weather Service issued a warning for sudden flooding in the burned-over areas affected by the Thomas and Whittier fires along the southern coast of Santa Barbara County, the county announced on its Web page.

The torrential rains on Tuesday morning in some parts of Southern California also caused power outages.

In a communique sent to EFE, the Southern California Edison electricity provider confirmed that at least 20,000 people were without electric service due to the storms but the firm was working to reestablish service "as quickly as possible."

Meanwhile, the Los Angeles County Public Health Department issued a high-risk warning for the beaches due to the storms effective until Tuesday afternoon.

The 2017 fire season consumed about 559,000 hectares (1.4 million acres) of forest and scrubland, according to the California Department of Forestry and Fire Protection (Cal Fire).

Those fires, which included five of the 20 most destructive fires ever recorded in California, killed 46 people.