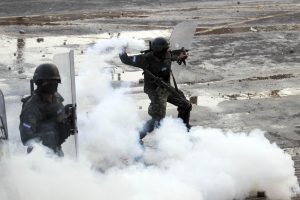 Tegucigalpa, Jan 12 (EFE).- More than 20 people, including civilians and security forces personnel, were injured on Friday during protests against the recent alleged electoral fraud in Honduras, officials said.

The coalition Opposition Alliance against the Dictatorship, led by Salvador Nasralla, has alleged electoral fraud in the Nov. 26, 2017 presidential elections which saw incumbent Juan Orlando Hernandez declared the winner.

The country's Secretariat of Security informed in a statement that 17 members of the security forces were hurt during the protests, which were initially peaceful, but culminated in a face-off between the protesters and the security forces close to the Presidential Palace.

Six civilians were also injured and admitted to the Hospital Escuela Universitario, informed a hospital official, who added that none of the cases were serious and they would be discharged soon.

Thousands of people participated in the protests – including Nasralla and former President Manuel Zelaya, who was deposed in a coup in 2009 – and lawmaker Jari Dixon of the Liberty and Refoundation (Libre) party was also hurt as they turned violent.

Zelaya, who attempted to reach where the first security cordon was located, suffered the effects of the tear gas launched by the police and the military to disperse the protesters.
According to the Secretariat of Security, there were several incidents of vandalism, and businesses in the area were damaged.

Nasralla, who withdrew from the scene once the first round of tear gas was launched, said that those who have caused damage are infiltrators from the governing National Party of Honduras.

He does not recognize the result declared by the Supreme Electoral Court, which on Dec. 17 declared Hernandez to be the victor, and assures that he was the winner.

Before the protests turned violent, Nasralla told reporters that Friday's protests were a rehearsal of what was going to happen from Jan. 20, until the "dictator" resigns.

He added that with the support of the people, he will assume power on Jan. 27, the date when Hernandez is officially scheduled to be inaugurated.