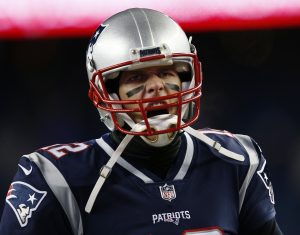 Foxborough, Massachusetts, Jan 14 (EFE).- The New England Patriots and Philadelphia Eagles have advanced to the AFC and NFC championship games, respectively, via very different routes and will next face the winners of the two playoff games on tap for Sunday.

The defending-champion Patriots showed why they are the favorites to win a record-tying sixth Super Bowl by trouncing the Tennessee Titans 35-14 in an AFC divisional playoff game at home.
Saturday's contest at Gillette Stadium in Foxborough looked like it might be competitive in the early going, with the Titans having managed to stop two Patriots drives and then marching 95 yards (87 meters) and eventually putting the ball in the end zone on a 15-yard touchdown pass from Marcus Mariota to wide receiver Corey Davis with 1:14 remaining in the first quarter.

But New England started dominating the game on its ensuing possession, with 40-year-old superstar quarterback Tom Brady stringing together one completion after another and then wrapping up the drive with a five-yard touchdown pass to running back James White at the 13:18 mark of the second quarter.

The Patriots made the score 14-7 less than four minutes later when White scored again, this time on a six-yard run, and the rout was on.

Brady threw two more touchdown passes, a four-yard throw to wide receiver Chris Hogan toward the end of the first half and then a four-yard completion to superstar tight end Rob Gronkowski shortly after the start of the fourth quarter that made the score 35-7.

With time winding down, Mariota found Davis once again for a touchdown, but this time with the game well out of reach.

Earlier Saturday, the Eagles relied on their potent defense to edge the Atlanta Falcons 15-10 in an NFC divisional playoff game at Lincoln Financial Field in Philadelphia.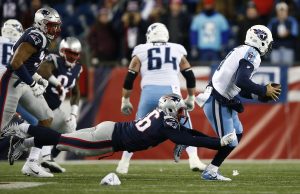 Having to make do without star quarterback Carson Wentz, who was lost for the season with a knee injury suffered in a regular-season game last month, the Eagles mustered just enough offense and relied on kicker Jake Elliott for nine key points.

Elliott's last boot, a chip-shot, 21-yard field goal, gave the Eagles a 15-10 lead with 6:02 remaining in the fourth quarter.

They then barely held on when the Falcons marched 74 yards to the Philadelphia two yard line but came up short when a fourth-down pass from quarterback Matt Ryan to superstar receiver Julio Jones fell incomplete at the 1:05 mark.

The Eagles subsequently ran out the clock against the defending NFC champions.

In the AFC Championship Game on Jan. 21 in Foxborough, the Patriots will take on the winner of Sunday's contest between the host Pittsburgh Steelers and the Jacksonville Jaguars at Heinz Field.

That same day, the Eagles will host the NFC Championship Game against the winner of Sunday's match-up at US Bank Stadium in Minneapolis between the New Orleans Saints and Minnesota Vikings.
35-14. Brady lleva a los Patriots a la final de la Conferencia e impone una marca
Foxborough (EE.UU) 13 ene (EFE).- El mariscal de campo Tom Brady hizo tres envíos de anotación y consiguió 337 yardas por aire, los Patriots de Nueva Inglaterra superaron 35-14 a los Titans de Tennessee y ganaron el pasaporte a su séptimo partido consecutivo por el título de la Conferencia Americana.

Los Patriots (14-3) recibirá al ganador del duelo de División entre los Jaguars de Jacksonville y los Steelers de Pittsburgh, que se enfrentan el domingo.

Los Titans se hicieron de una ventaja temprana ventaja de 7-0, pero los Patriots respondieron anotando 35 puntos consecutivos para tomar el control del partido.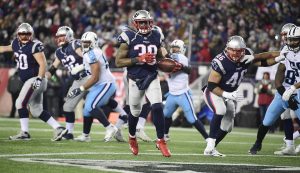 Para Brady fue su décimo partido de postemporada de por vida consiguiendo al menos tres pases para touchdown, con lo que supera los números de Joe Montana en ese apartado e impone marca en la historia de la NFL.

Brady completó 35 de 53 pases para 337 yardas con tres pases de anotación.

El mariscal de campo hizo conexión con James White con pase de cinco yardas, y con Chris Hogan, con envío de cuatro yardas, ambos en el segundo cuarto para anotación.

En el último cuarto encontró a Rob Gronkowski con pase de cuatro yardas, también para poner el balón en la zona de las diagonales y sumar sus tres envíos de touchdown.

Los Titans (10-8) perdieron con su mariscal de campo Marcus Mariota, que completó 22 de 37 pases para 254 yardas con dos pases de touchdown.