Washington DC, Jan 15 (EFE).- A father and mother were arrested Monday in Perris, California, and charged with torture and child endangerment after their 13 children were reportedly held captive and shackled to beds in unhealthy conditions at their home.

Thirteen siblings aged from 2 to 29 years were found chained to their beds at home with signs of malnutrition, according to a statement from Riverside County authorities in southern California.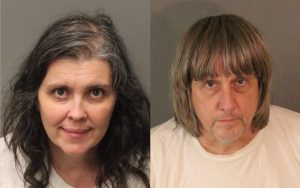 The parents, David Allen Turpin, 57, and Louise Anna Turpin, 49, have been transferred to the Robert Presley detention center, with their bail set at $9 million each.

The case came to light when one of the siblings, a 17-year-old girl, managed to escape from the family's residence in Perris and called police with a telephone she took from home.

According to local police, the girl told authorities that her 12 siblings were restrained by their parents in their home, some of them even with chains and padlocks.
Police officers were surprised to see that these children look much younger than their actual ages, which investigators attributed to the siblings' poor living conditions.

The police report describes the family home where the siblings were chained as a dirty, smelly and dark place.

The 13 victims, consisting of six minors and seven adults, have received treatment in nearby hospitals.