Mexico City, Jan 15 (EFE).- Mexican fast-food joints and other restaurants generate enormous, avoidable amounts of non-biodegradable waste, which an expert says is the product of on-the-go lifestyles in large metropolises.

Plastic waste is particularly evident in downtown Mexico City due to both the abundant use of straws as well as bags that encase the plates on which fast food is served daily to millions of Mexicans.

A great deal of paper waste also is generated because of a tradition in which diners place their order marking their selection in pen on the menu.

"I can assure you that paper isn't recycled, at least not at the restaurant. (It goes) to their accounting areas" for record-keeping purposes, the senior adviser in Mexico for Germany's GIZ development agency, Sandra Herrera, told EFE.

She said, however, that many restaurants are making the transition to taking orders digitally, which "will take a whole lot of paper out of retail food sale establishments."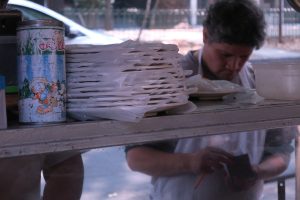 Also noteworthy is the heavy use of straws and plastic cups, which are served at most of the capital's fast-food taco places without the customer being asked if they would prefer a more environmentally friendly alternative.

A plastic straw takes 200 years to decompose, the expert says.

At street stands where people eat standing up on the pavement, food is served on plates encased in plastic bags. Those bags are then thrown away after diners have finished their meals, leaving the plate perfectly clean and ready to be reused.

A girl eating at one stand, Paola Luna, told EFE she thought those establishments served the food in that way for hygienic reasons.

"They could use the plate and wash it, but I don't know what's worse: contaminate with the plastic or wash (dishes) and waste more water," she said.

Herrera, for her part, said "inorganic waste is growing in cities because of the way in which we live," referring to the popularity of taco eateries and other similar fast-food restaurants.

"You have to understand the dynamic of cities is to serve everyone who's on the go or who works very far from home," she added.