Mexico City, Jan 16 (EFE).- Mexican scientists are developing a flexible super-battery that can be charged in 30 seconds, the National Science and Technology Council (Conacyt) annunced.

Researchers at the Autonomous University of Coahuila (Uadec) are developing a battery that recharges in less than 30 seconds, provides at least 1,000 hours of energy and is made of flexible materials at a low cost that will assure its successful marketing plus its adaptation to a wide range of electronic devices.

For now, the experts have made that 10-second charge a reality and the battery lasts an hour.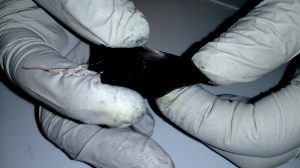 A normal triple-A battery provides an average of 1.41 watts per hour – the same will be delivered by a super-battery measuring 7 x 7 centimeters.

The material it is made from substitutes lithium, the most common substance up to now for producing cell-phone batteries. However, lithium is getting scarcer all the time, which will inevitably jack up the price.

This new invention is described as flexible technology, an innovative tech trend in the electronic devices, which in various countries is currently in research and development stage.

Conacyt's professor Jorge Roberto Oliva said they're "looking to develop all the existing electronic components like capacitors, batteries, displays and transistors with lighter, more flexible materials at a lower cost than those used in conventional electronics."

In the future, this technology will allow the development of electronic devices including mobile phones, televisions and more compact batteries that can be folded, and which also consume less electric power to perform their functions, he said.

"For example, supposing that flexible batteries exist, they could be incorporated into articles of clothing," which could then charge mobile devices like cell phones, the scientist said.

Another point in favor of these super-batteries will be their capacity for making "electronic devices last much longer."

"It has been reported that some flexible capacitors can last 50,000 hours, while conventional electronic capacitors last only 20,000 hours, Oliva said.