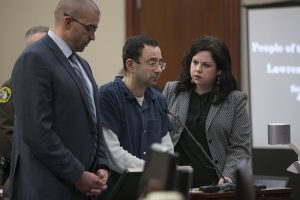 International Sports Desk, Jan 16 (EFE).- At least 98 of the more than 100 athletes and former athletes that were sexually abused by a sports physician in the last 20 years admitted on Tuesday, during a hearing in Lansing, Michigan, that they have had suicidal thoughts as a result of his assaults.

Larry Nassar and his victims, most of them gymnasts, were summoned before Judge Rosemarie Aquilina in Lansing, Michigan, at a trial testimony day.

Nassar, a 54-year-old doctor who could be sentenced to life imprisonment for his actions, was reportedly crying while listening to his victims' testimonies.

Although the former doctor was not allowed to question or respond during the trial, many victims faced him, questioned him for the reasons of his abuses and wanted to know if he felt any kind of regret.

Nassar's case came to light when athletes from the US national gymnastics team, including Aly Raisman, McKayla Maroney, Gabby Douglas and Olympics champion Simone Biles, who won four gold medals in the 2016 Rio Olympics, came forward and told their experiences of his sexual assaults.

It was also revealed that Nassar abused athletes from the University of Michigan, for which he will be tried later this week.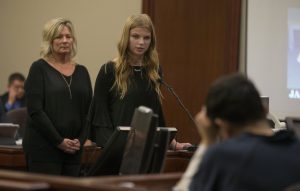 Volleyball players, figure skaters and football players were among those included on the list of Nassar's victims.

The extraordinary hearing that is to last four days started one day after Simone Biles, the US gymnastics team's rising star, revealed in a statement that she was among Nassar's victims.

At the end of 2016, Nassar pleaded guilty to sexually molesting females at his Michigan State University office, his residence and a training club for Olympic athletes in Lansing.

"I testified to let the world know that you are a repulsive liar," said Kyle Stephens, the first of 98 women and girls who agreed to give public or anonymous written testimony, told him Tuesday.

Stephens said Nassar repeatedly abused her from age 6 until 12 during family visits to her home in Holt, near Lansing.

Former gymnast Jade Capua told the hearing that the abuse was a "life-changing experience that stole my innocence far too young."

USA Gymnastics has been accused of making Olympic champion McKayla Maroney sign a financial settlement to silence her sexual abuse claims against Larry Nassar.