Quito, Jan 17 (EFE).- Ecuador has made 3.6 million barrels of Oriente crude available in a "spot" sale, a process in which more than 40 companies are participating, the Andean nation's hydrocarbons minister said Wednesday.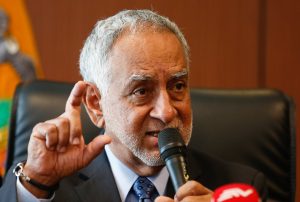 "We're carrying out the first spot sale of 2018 today. It's a 'spot' sale of 10 shipments of 360,000 barrels, or 3.6 million barrels," Carlos Perez told reporters at state oil company Petroecuador's headquarters in Quito.

Perez said the spot sale was open "to more than 40 companies who will submit their offers, and we really hope to obtain better conditions for the country."

Oriente crude is the most abundant and the highest quality among those produced in the Ecuadorian Amazon.

Crude shipments for immediate delivery are sold in the spot market, where the oil price is established based on how much participating companies are willing to pay.

Ecuador's crude output of just over 500,000 barrels per day makes it the smallest member of the Organization of the Petroleum Exporting Countries (OPEC), although oil sales are the government's main source of hard currency earnings.