By Lina Broydo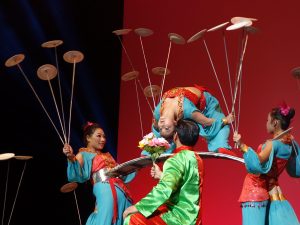 Peking Acrobats Dazzle in Berkeley
January 27 at 2 pm & 8 pm; January 28 at 3 pm 
Performances by the agile and exuberant Peking Acrobats combine the rich tradition and rigorous training of ancient folk arts with the sleek theatricality and amazing technical savvy of the 21st century.
Dressed in ornate costumes and accompanied by live music played on Chinese instruments, the supernaturally graceful acrobats will wow the crowds with areal routines, juggling (don't try it at home with your Mom's best china), tumbling, somersaults, gymnastics and daring stunts. Not to be missed!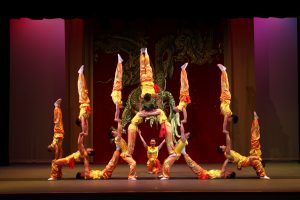 Tickets and Information
Prices range from $15 to $76
510-642-9988
Cal Performances
101 Zellerbach Hall in Berkeley
Photos courtesy of Tom Meinhold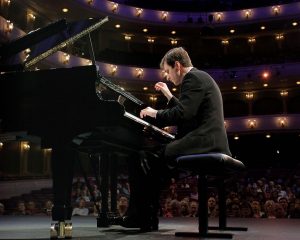 2017 Cliburn Silver Medalist Kenneth Broberg performs in San Jose
January 21 at 2:30 p.m.
The Steinway Society – Bay Area continues its well established tradition of showcasing the Van Cliburn International Piano Competition's winners by presenting this week a very special performance by Kenneth Broberg, the 2017 Silver Medal winner.
The Sunday afternoon program will feature César Franck/Harold Bauer, Prelude, Chorale & Fugue in B minor; Johann Sebastian Bach, Toccata in C Minor, BWV 911; Claude Debussy, Children's Corner and Franz Liszt, Sonata in B Minor, S. 178. Minneapolis native, 23-year-old Kenneth Broberg won the silver medal for performances that showed "an imaginative shaping of themes, revelation of inner voices, and an unfailing sense of momentum" (Texas Classical Review).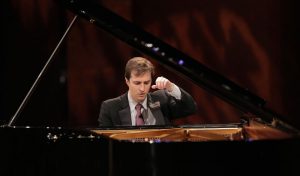 The first musician in his family, Mr. Broberg began piano lessons at age six, when he was fascinated by his mother's upright—a wedding gift from her parents. He studied for nine years with Dr. Joseph Zins before entering the University of Houston's Moores School of Music, where, studying with Nancy Weems, he earned a Bachelor of Music degree in 2016.
He resides in Parkville, Missouri, This exciting newcomer to the classical piano stage will win many new fans at his first visit and concert in San Jose.
Tickets and Information
Prices range from $40-$60. Senior/Student Discounts Available
(408) 990-0872
Trianon Theatre
72 North 5th Street in San Jose
(Free parking in City Garage directly across the street)
Photos courtesy of Steinway Society – The Bay Area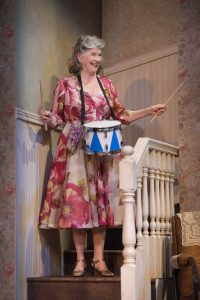 The Birthday Party in San Francisco
Through February 4
American Conservatory Theater (A.C.T.) welcomes Goldberg and McCann, two unsettling strangers on their visit to an English seaside town in the Harold Pinter's classic drama "The Birthday Party."
The inhabitants of a ramshackle boarding house are eager to know who sent them? And why do they keep asking about the sole boarder, piano player Stanley? As the party guests, including flighty Lula and flirty landlady Meg, gather for Stanley's birthday, the desperate pianist is forced to confront a surreal interrogation. Says A.C.T. Artistic Director Carey Perloff: "There is nothing more invigorating than confronting the unique world of menace, mystery, and mayhem that accompanies this play of Harold Pinter."
Intrigued? The inquiring minds want to know and so do we. Explore the hilarious and frightening world of Stanley, hiding out in a postwar seaside bedsit when two strangers come to take him away in this nail biting production of "The Birthday Party" as it marks A.C.T.'s first staging of Pinter's mysterious classic drama.
A.C.T. is offering numerous InterACT events—many of which are presented free of charge—that will give patrons opportunities to get closer to the action while having an entire night out at the theater. Visit act-sf.org/interact to learn more about subscribing to these events throughout the season.
Tickets and Information
Prices range from $15 to $110
415-749-2228
ACT's Geary Theater
415 Geary Street in San Francisco
Photo of Two-time Tony Award winner Judith Ivey in the role of Meg – courtesy of Kevin Berne 

San Jose Eats and Celebrates California's Restaurant Month
Through January 28
Enjoy the delicious journey throughout San Jose, the capital of Silicon Valley, as more than 22 restaurants will celebrate #SanJoseEats. Participating restaurants will offer a creative twist on their regular menu including: deep discounts, special menus and signature creations. As one of the nation's rich in ethnic cultures cities, visitors will experience flavors from Mexico, Brazil, Japan, Spain and India.

Known historically as the Valley of the Hearts Delight, California cuisine is recognized around the globe for being both innovative and delicious due to the state's vast supply of fresh ingredients, talented chefs and diverse gastronomic influences. In 2016, travelers in California spent $33.9 billion on food and beverage and 38 million domestic visitors participated in fine dining throughout the state. #SanJoseEats is part of Statewide Restaurant Month designated by Visit California.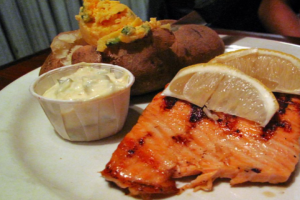 Now in its eighth year, California Restaurant Month drives business for local restaurants and entices out-of-state travelers to visit California. Don't wait to celebrate! My diet will start after January 28.
For more information about #SanJoseEats, visit www.sanjose.org/SanJoseEats.
Diners must mention #SanJoseEats to receive special offers.
Photos courtesy of Team San Jose