January 12, 2018 – San José – MACLA/Movimiento de Arte y Cultura Latino Americana starts the new year with Latin Standards, a new solo-theater piece written and performed by Marga Gomez (GLAAD [Gay & Lesbian Alliance Against Defamation] Award, 2017 "Best Of The Bay Award Comedy") and directed by David Schweizer.
"Vibrant….Winning heart and humor. Critic's pick!" — The New York Times
"Gomez's characterizations are impossible to resist… Gomez says her father's all charm, but when she embodies him, it's not a superficial charm — it's a kind of congenital affability, a deep-seated delight in life." — The San Francisco Chronicle
In her 12th and final solo play Latin Standards, Marga Gomez performs the loving, funny and true story of perseverance and creative addiction passed down from immigrant father to lesbian daughter. Mixing nostalgia, urgency, and comic edge, Gomez portrays herself as a driven adult child of a Cuban entertainer. Defying reason she attempts to produce a hipster comedy night at a struggling Latino drag queen club during San Francisco's gentrification crisis. Between vivid portrayals of characters from 1960's Manhattan to present day San Francisco, Gomez ponders the ballads (or Latin Standards) penned by her late father Willy Chevalier: a comedian/producer/entrepreneur and composer of dance tunes that reveled in jealousy and obsession. Latin Standards premiered Off Broadway at the Public Theater's "Under The Radar Festival in 2017 and has gone on to presentations in Chicago, Los Angeles, Boston and San Francisco.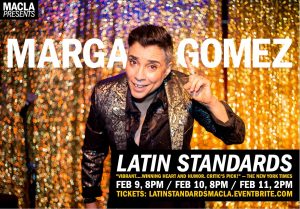 Marga Gomez is GLAAD Award and LA (Los Angeles) Ovation Award winning writer/performer of 12 solo plays which have been presented at The Public Theater, La Mama ETC, Dixon Place, nationally and internationally. She was an original member of the Latino performance ensemble Culture Clash. Gomez is also a stand-up comedian. Her appearances include LOGO's "One Night Stand," Comedy Central's "Out There," and HBO's "Comic Relief." Her screen roles include "Sphere" (Warner Brothers) and Tracy Takes On… (HBO). She can be seen on Sense8 on Netflix. Her website is margagomez.com
Director David Schweizer has been developing and directing new live performance work for forty years, from his debut at Lincoln Center with a radical revival of Shakespeare's TROILUS AND CRESSIDA to his return there with Richard Rodney Bennett's THE MINES OF SULFUR for New York City Opera. He has proudly directed Marga Gomez' solo works for many years now including "Los Big Names," "Lovebirds, and "Long Island Iced Latina."
TICKETS:
$25 AT-THE-DOOR GENERAL ADMISSION
$20 ADVANCED GENERAL ADMISSION
$10 STUDENT
LatinStandardsMACLA.eventbrite.com | maclaarte.org | 408.998.ARTE
Castellano Playhouse Theatre, MACLA, 510 S 1st St, San Jose, CA 95113
Founded in 1989 as the result of a broad community mobilization in the City of San José and nationwide on behalf of multicultural arts, MACLA has promoted, since its inception, a vision of arts programming as a vehicle for civic dialogue and social equity. More than 35,000 children, people participate in the 50 programs MACLA produces each year in four core program tracts: visual arts; performance and literary arts; youth arts education; and community development through the arts. MACLA is committed to emerging Latino artists and audiences.
Please call box office 408.998.2783 for wheelchair and/or other accommodations. Production is presented in English with some Spanish and contains mature language. Recommended for ages 16+. 90 minutes, no intermission.
There are many parking options near MACLA; check parksj.org/parking-map. Adjacent to MACLA are several public transportation stops. Plan your trip with the VTA Trip Planner.
More info: 408.998.ARTE
MACLA, 510 S 1st St, San Jose, CA 95113
Latin Standards was organized by MACLA with support by National Performance Network (NPN). MACLA is a participant in Leveraging a Network for Equity (LANE), a program of the National Performance Network/Visual Arts Network in partnership with the Nonprofit Finance Fund with support from the Andrew W. Mellon Foundation. With additional support from Applied Materials Foundation, the Bank of America Charitable Foundation, the Castellano Family Foundation, the William and Flora Hewlett Foundation, the James Irvine Foundation, the David and Lucile Packard Foundation, the City of San Jose and MACLA supporters