April 21, 1993
By Yolanda Reynolds
Photos by Mary J. Andrade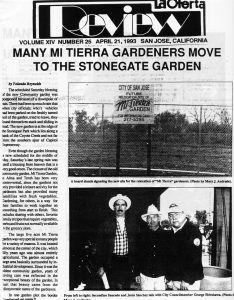 The scheduled Saturday blessing of the new Community garden was postponed because of a downpour of rain. There had been so much rain that when city officials, who's vehicles had been parked on the freshly turned soil of the garden, tried to leave, they found themselves stuck and sliding in mud. The new garden is at the edge of the Stonegate Park which lies along the bank of the Coyote Creek and not far from the southern spur of Capitol Expressway.
Even though the garden blessing is now scheduled for the middle of May, Saturday's late spring rain was itself a blessing from heaven that is a very good omen. The closure of the old community garden, Mi Tierra Garden, at Alma and Tenth has been very controversial, since, the gardens not only provided a leisure activity for the gardeners but also provided many families with fresh vegetables. Gardening for others, is a way for their families to work together on something from start to finish. This includes sharing with others, favorite family recipes that require vegetables, herbs and fruits not normally available on the grocery store.
The large five acre Mi Tierra garden was very special to many people for a variety of reasons. It was located almost at the corner of the city, which fifty years ago was almost agricultural.  The garden occupied a large area basically surrounded by industrial development. Since it was the oldest community garden, years of loving care was reflected in the exceptional beauty of the garden. In part that beauty came from the idiosyncratic tastes of the gardeners.
In one garden plot the border would be edged with lovingly selected rose bushes that evidenced being planted there years ago. Other plots had trees whose branches reached out to provide a shade space from the hot summer sun to the gardener. Even the makeshift benches had a charm that hinted at friendly chats between gardeners while they rested from their garden chores.
In time, the new garden will likely become as charming- but it will take years for the trees in the garden to provide shade and the arbors to become dense and tangled with vines like those at Mi Tierra. This created quiet, shady spaces for the children where they could find time in their imaginations to pretend that they were going deep into the earth for hidden treasures or off on other adventures.
Mi Tierra gardeners were angry, hurt, and saddened when they became aware that Mi Tierra would cease to exist. Promises were made that when they were moved, they would be able to remain together. Saturday, it was evident that Mi Tierra was now just a memory – that family of gardeners was now scattered about the city. The gardeners will not be together since the new garden at Stonegate is considerably smaller than Mi Tierra. Stonegate has a total of 84 plots, while Mi Tierra had 150.
Several of the gardeners mentioned that they had mixed feelings about the new arrangement. For some the new garden was in fact closer to their home. Others felt that the entrance to the garden could be improved, and were extremely disappointed because they truly believed that they were to be given preference to the same size plot that they had at Mi Tierra – that did not happen. The demand for the larger 40 x 40 garden plots was so great that the fifteen available at Stonegate were allocated in a drawing. The other plots are 20×30.
That selection process seemed fair but some of the gardeners were very disappointed and confused when the Parks and Recreation staff that managed the city's community garden informed them on Saturday that there had already been a drawing for seven of the plots on Friday.
Those who came on Friday, but did not get a large plot, had their numbers left in the pool for another chance at a large plot on Saturday.
That caused grumbling because those who were left out of the drawing on Saturday said that they had not been contacted about the Friday drawing and others were told that, even though they had a large plot at Mi Tierra, they could not participate in the large plot drawing unless their name was on the "list." They were advised that if a large plot was "left over" they would have a chance at a large plot but that the staff did not "expect" that.
The Rosa family, among others, felt discriminated against since they too had a large plot at Mi Tierra but had not been informed of the Friday drawing. Their name had also been omitted from the large plot roster.
According to a city staff person, the "list" was provided by a former city employee, Gil Galindo, who was involved with the Mi Tierra garden meeting held last year.
San Jose Cit Councilman George Shirakawa, in whose council district this new garden is now located, informed La Oferta that the new garden was not going to cost as much to develop as the city had initially expected ($250,000). This is because much of the labor and materials have been donated.
According to Shirakawa, the gardens water system was being done by Ray L. Hellwig Plumbing & Heating. The garden design was done by "Christmas in April," owned by two women landscape architects. A Union group, Local 393, is donating not only a week's worth of labor, but also the materials and equipment needed to provide the arbors, fencing, and restrooms at the garden as well.
According to the city staff, sixty-three of the Mi Tierra gardeners have indicated that they plan to move to Stonegate. The rest of the gardeners are going to other existing gardens in San Jose, with 40 gardeners planning to go to a community garden already located in Watson Park that will be slightly expanded to accommodate them. That garden is located in District 3, whose council representative is David Pandori. According to city staff, most of the former Mi Tierra gardeners going to that garden live closer to Watson Park than Stonegate.
Shirakawa said that all of the promises he made to gardeners, as mitigations for the required move, would be honored. One of these promises was one year of free water use to all of the displaced gardeners, regardless of which community garden they have chosen to go to.
The city also has adopted a "bill of rights" for city community gardeners which promises that gardeners can be assured that the garden will continue for at least 5 years after it it is established. Repeatedly, city officials remind critics of the Mi Tierra closure that the council became "squeamish" about providing "community gardens" because it was always intended to be only a temporary use until the property was "developed." They remind those critics that the park land belonged to the City. Critics say that the People are the "City" and that community gardens achieve objectives that are both desirable and needed to make a community healthy.
Jose Montes De Oca, an aide to Councilman Shirakawa, said that a permanent memorial would be erected to commemorate the site of San Jose's first Community Garden. That is an important gesture, since that garden's creation had a very special meaning to many in the community. Mi Tierra came into existence largely through the efforts in 1975. Carranza, now deceased, was a respected community leader in San Jose and the nephew of one of Mexico' highly regarded revolutionary presidents, Venustiano Carranza.
Two extended families, the Anaya and Ruiz families, though disappointed that some of them were unable to have at least one of the larger plots, were busy trying to arrange the location of their gardens. There was an air of excitement and those gardeners present, most of whom had been gardening for at least five years, were eager to begin work in their garden plot.
Montes De Oca indicated that the gardeners would have a special entrance adjoining the children's playground so that their children would not have to go by way of the streets to access the play equipment. Mi Tierra gardens had a community room, a tot lot, and a barbeque area within the garden.
For San Joseans, the closure of Mi Tierra resulted in a net loss of the number of garden plots available in the city owed community gardens.
However, this new location – near a large, established housing development – will likely result in more San Joseans discovering the joys and friendships afforded through the community program. According to City staff, already 20 families have asked for a garden plot there.
Mi Tierra was closed down in order to make room for a pair of ice rinks. The status of those proposed rinks is not certain since the builders contract with the City was deferred several weeks ago and no new date for its approval has been announced.
Reportedly, the rinks were primarily to be used as practice rinks by NHL Sharks ice hockey team, which is now based in San Jose. The City hopes that they will be the star attraction at the soon to open San Jose Arena. That Arena has been extremely controversial – and will likely become even more so as the costs of its construction are already close to double the amount that was promised by city officials, many of whom still serve on the city council (including Mayor Hammer).
For more information on Community Gardens contact your city council representative at 277-2421 or Manny Ruiz, the Community Gardening Coordinator, at 2777-5290. His office is located at 3055 Tuers Rd. San Jose, CA 95121. © La Oferta Newspaper.