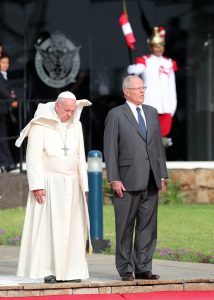 Lima, Jan 18 (EFE).- Pope Francis arrived on Thursday in Peru on a three-day official and apostolic visit that will take him to the Amazon city of Puerto Maldonado, as well as Trujillo and Lima, where on Sunday he will celebrate a Mass which more than a million people are expected to attend.

The Latam Airbus 321 transporting the pontiff and his retinue touched down at Lima's Jorge Chavez International Airport at 4:32 pm, having departed from Iquique, Chile, the country Francis visited on the first leg of his sixth Latin American trip.

The pope was greeted on the tarmac by Peruvian President Pedro Pablo Kuczynski and, after the welcoming ceremony, he headed to the Apostolic Nunciature in the capital's Jesus Maria district, where thousands of young people awaited him and where he will rest before travelling to the Amazon region on Friday.

Francis, who appeared tired when he disembarked, was also welcomed by first lady Nancy Lange and received a bouquet of flowers from two Peruvian children dressed in the white and yellow colors of the Vatican.

On Friday, in Puerto Maldonado, the pope will meet with 3,500 representatives of Peruvian, Bolivian and Brazilian indigenous communities, who will tell him of the dangers facing their lands from illegal mining and climate change, among other threats.

Also on Friday, Francis will meet privately in Lima with Kuczynski, with whom he will discuss the situation of the most vulnerable groups in Peruvian society and the environment, according to Peruvian government sources.

On Saturday, the pope will travel to the northern city of Trujillo, which was serious affected by the El Niño weather phenomenon in early 2017.

The last day of his trip will be devoted to religious activities in Lima, including the huge open-air Mass at the Las Palmas airbase.

The pope's visit presents a complicated situation for Peru given that its political sphere is embroiled in the corruption scandal involving Brazil's Odebrecht construction giant and due to the controversial pardon Kuczynski granted on Dec. 24 to former President Alberto Fujimori, who was serving a 25-year prison sentence for crimes against humanity.