Washington, Jan 18 (EFE).- US President Donald Trump on Thursday insisted once again that the US-Mexico border wall he is demanding will be paid for "directly or indirectly" by Mexico, adding that he has never changed his view of how the physical barrier should be constructed, contradicting his chief of staff, John Kelly.

"The Wall will be paid for, directly or indirectly, or through longer term reimbursement, by Mexico, which has a ridiculous $71 billion dollar trade surplus with the U.S.," said Trump on Twitter.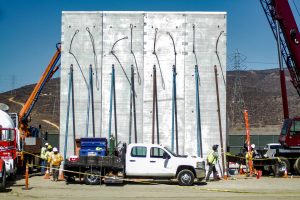 "The $20 billion dollar Wall is 'peanuts' compared to what Mexico makes from the U.S. NAFTA is a bad joke!" he added, referring to the North American Free Trade Agreement among the US, Mexico and Canada, which the three parties are currently renegotiating at Trump's insistence.

The president's remarks came after on Wednesday Kelly acknowledged in a meeting with Democratic lawmakers on the Congressional Hispanic Caucus that some of Trump's campaign promises had been "uninformed," this while commenting about the controversial wall and the mogul's promise that Mexico will fully pay for it.

Kelly said that the intention is to build a physical barrier – although not necessarily a concrete wall – along 1,300 kilometers (about 800 miles) of the 3,100-km (1,925-mi.) border.

"The Wall is the Wall, it has never changed or evolved from the first day I conceived of it. Parts will be, of necessity, see through and it was never intended to be built in areas where there is natural protection such as mountains, wastelands or tough rivers or water," the president said in an earlier tweet on Thursday.

Meanwhile, the Mexico government responded Thursday to Trump's tweets regarding the wall, saying definitively that it "will not pay" for any border wall and adding that it will not negotiate on NAFTA or any other aspect of the bilateral relationship via the social networks.

The Mexican Foreign Relations Secretariat said in a statement that although Mexico is facing "a significant problem with violence, it is clearly false that Mexico is the world's most dangerous country."

According to United Nations figures from 2014, "Mexico is far from being one of the most violent countries," said the Foreign Secretariat, emphasizing that other Latin American nations "have murder rates in excess of Mexico's, which stands at 16.4 (per 100,000), much below various countries in the region."

The Foreign Secretariat said that Mexico's position on renegotiating NAFTA will continue to be "serious and constructive, always placing the national interest first and seeking a result in which the three North American countries win."