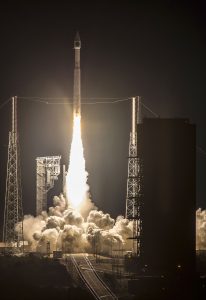 Miami, USA, Jan 19 (EFE).- The United Launch Alliance launched an Atlas V rocket Friday from Cape Canaveral in Florida, United States, and placed a fourth infrared sensing satellite into orbit, as part of the US Air Force missile-detection system.

The liftoff occurred at 7.48pm from a platform of the complex 41 of the space center, and is the US Air Force's fourth Space Based Infrared System (SBIRS) missile-detection satellite.

The three previous launches put into orbit a satellite weighing about 4,500 kilos in 2011, 2013 and January 2017.

This latest takeoff was achieved after the United Launch Alliance, a joint venture between Lockheed Martin and Boeing, suspended the launch on Thursday due to a ground issue associated with the booster liquid oxygen system, according to the company.

The rocket carried out the entire separation process and managed to leave the satellite in orbit in just a little over 40 minutes.

SBIRS is one of the highest priority space programs in the US and has been designed to meet the 21st century demands in four national security mission areas: missile warning, missile defense, technical intelligence and space combat awareness", according to the United Launch Alliance.

The launch of the Atlas V, which has carried out 75 flights, will be the first one that the company conducts this year from the Florida complex, and the second in 2018 after a Delta IV rocket sent a classified intelligence spacecraft to orbit from California last Friday.

Besides, it will also be the 125th launch since the United Launch Alliance was founded in the year 2006.