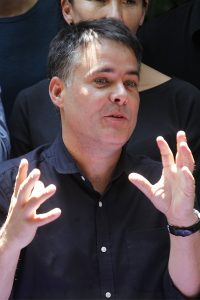 Los Angeles, Jan 23 (EFE).- Sebastian Lelio, director and co-screenwriter of "A Fantastic Woman," nominated Tuesday for an Oscar in the Foreign Language Film category, said he was honored to represent Chile with this story of love and resistance.

"Thanks to the Academy and to all who helped make this movie," Lelio said in a statement sent to EFE.

"In times like these when there is so much adversity and suffering in the world, I hope we can find in the experiences of others the courage and inspiration to change things," he said.

"A Fantastic Woman" will compete for the statuette awarded by Hollywood's Academy of Motion Picture Arts and Sciences against "The Insult" (Lebanon), which won the Copa Volpi of Venice for Best Actor, Ziad Doueri; "Loveless" (Russia), winner of the Cannes Jury Prize; "Soul" (Hungary), Golden Bear prizewinner at the Berlinale; and "The Square (Sweden), Palme d'Or at Cannes and Best Film at the European Film Awards

This is the second time a Chilean movie has been nominated for an Academy Award for a Foreign Language Film following the 2012 candidacy of "No" by Pablo Larrain, who also happens to be one of the producers of "A Fantastic Woman."

This year, 92 feature films from around the world were entered to compete in this Oscar category.

The Oscar nomination for "A Fantastic Woman" adds a new triumph to its many successes, which began with the Silver Bear for Best Screenplay at the Berlinale, followed by its victory in the Fenix Film Awards for Latin American movies – where Daniela Vega took Best Leading Actress – and was also nominated for a Golden Globe in the Foreign Language Film category.

After the death of her partner, the star of "A Fantastic Woman" quickly learns that being transgender brings a lifetime of obstacles and struggles against intolerance and prejudice.

The film, whose cast is headed by transsexual actress Daniela Vega, is another analysis of the female universe by Lelio, with his creation of a character ready to fight anyone who denies her respect or tries to undermine her dignity.

Marina, the name of the leading character, not only has to deal with hostile surroundings after the death of the man with whom she lived and whose funeral everyone tries to stop her from attending, but is given the responsibility of appearing in practically every shot from beginning to end.

The 90th Academy Awards ceremony will be held next March 4 at the Dolby Theater in Los Angeles.