Washington, Jan 23 (EFE).- President Donald Trump said Tuesday that there will be no "trade war" in reprisal for his imposing tariffs on imports of solar panels and washing machines, most of which are manufactured in Asia.

"There won't be a trade war," said the president at the signing ceremony to impose the tariffs – which will be 30 percent on imported solar panels and solar cells and 20 percent on large residential washing machines – regarding potential responses on the part of US trade partners such as South Korea and China.

Trump emphasized that the only consequences of his action will be that "you're going to have people getting jobs again, and we're going to make our own product again."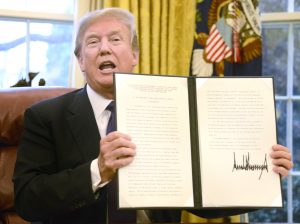 When asked about steel and aluminum tariffs, he also said that his administration is "looking at a lot of things."

The measure implemented on Tuesday supports the principle of free trade and shows the world that the US cannot be taken advantage of, Trump said.

Both tariffs, which will be progressively reduced over the coming three years, seek to increase the costs of cheap imports, particularly from Asia, and level the playing field for companies manufacturing the products in the US.

Both South Korea and China, where most of the solar panels and cells and washing machines are produced, have criticized the president's decision, saying that it will end up hurting the competitiveness of the US economy and will lead to price rises.

Trump made his remarks shortly before departing for the World Economic Forum in Davos, Switzerland, a traditional meeting place for the world's business and economic elite and a forum that defends free trade and globalization.