Santiago, Jan 26 (EFE).- Spanish actor Javier Bardem is on an expedition to the Antarctic to document and promote a Greenpeace campaign that seeks to create the largest protected marine area in the world in waters of the white continent.

Bardem, together with his brother Carlos and producer-director Alvaro Longoria, set sail this week on the icebreaker Arctic Sunrise to navigate the Antarctic Ocean, one of the most pristine marine areas on the planet, Greenpeace Chile announced.

The ecological organization warns that waters of the white continent face a growing threat from the exploding presence of industrial fisheries.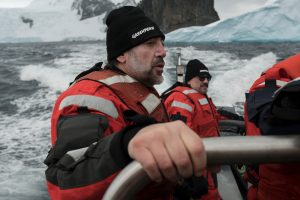 Bardem's trip will last eight days but the expedition of the scientists n the Arctic Sunrise will continue for three months, during which they will demand the creation of the largest protected area on the planet: the Antarctic Marine Sanctuary, covering 1.8 million sq. kilometers (700,000 sq. miles), more than twice the expanse of Chile.

Greenpeace complains that industrial fisheries are currently free to sweep up massive catches of krill, a crustacean that is a key element in the food chain for the entire Antarctic ecosystem, but which are sold for the manufacture of food supplements.

The creation of an Antarctic Marine Sanctuary would mean offering a secure refuge for the more than 9,000 species living in its waters, since it would ban industrial fishing boats from catching them.

In October of this year, the 23 countries belonging to the Commission for the Conservation of Antarctic Marine Living Resources (CCAMLR), including Chile, will vote on the creation of the Antarctic Marine Sanctuary.

The two actors and director Alvaro Longoria will take advantage of the expedition to shoot the documentary "Sanctuary," produced by Javier Bardem, and which will show the beauty of the Antarctic Ocean as well as all the special interests that threaten and prey on it.