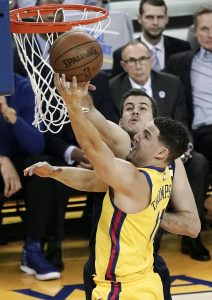 Oakland, California, Jan 26.- The Golden State Warriors warmed up for their much-anticipated contest this weekend against the Boston Celtics by rolling past the upstart Minnesota Timberwolves 126-113.

The Warriors (39-10) jumped out to a nine-point lead after one quarter and took a 12-point advantage at the intermission in a game whose outcome was never in doubt.
The Timberwolves' defense was no match for Golden State's high-powered offense, which was especially potent on the fast break and from beyond the 3-point line in Thursday night's contest at ORACLE Arena in Oakland.

As a team, the Warriors shot 21-of-37 from long range, while the Timberwolves made just six of their 20 3-point attempts.

Superstar forward Kevin Durant notched a triple-double for the Warriors, scoring 28 points, grabbing 10 rebounds and dishing out 11 assists.

Sharp-shooting guards Stephen Curry and Klay Thompson added 25 points apiece.

The Timberwolves were led by star center Karl-Anthony Towns, who scored 31 points and hauled down 11 rebounds. But their other young star, Andrew Wiggins, had a dismal night with just 10 points on 4-of-18 shooting.

Minnesota, a team on the rise that has a 31-20 record, fourth-best in the Western Conference, was forced to make do without injured star forward Jimmy Butler.

The Warriors now can fully shift their attention to Saturday night's showdown at ORACLE Arena against the Celtics, who surprised the defending NBA champions 92-88 in a November game at TD Garden in Boston.

Golden State currently has the best record in the NBA, while the Celtics (35-14) have the best mark thus far this season in the Eastern Conference.