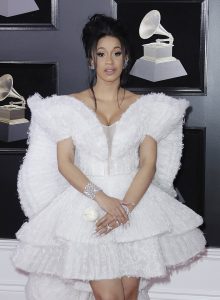 New York, United States, Jan 28 (EFE).– For the first time in 60 years, dresses were not the topic most talked about of the Grammys red carpet as the white roses that the stars wore in support of the #MeToo movement against sexual harassment stole the spotlight.

The idea came up a few days ago when two music industry executives saw the big night approaching without any plan to show support for the women who raised their voices against sexual harassment during 2017.

American rapper Cardi B, nominated for two categories, told reporters that the glass ceiling faced by women is not exclusive to the music or film industry.

"It's something that happens everywhere, if you work in a supermarket and want to move up, men will always find a way to keep that position," said the female rapper, who wore a white dress with angel wings, perfectly matching the white rose she held.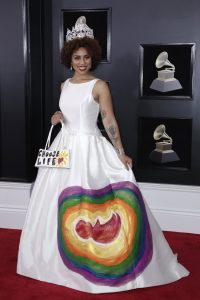 Lana del Rey put on Gucci's dress with an angelic aura, in light and silver colors, and a crown of stars that gave her applause across social media.

Another star that also drew attention on social media was the singer Joy Villa, who last year surprised the crowd with an outfit in support of Donald Trump. This year she donned a white anti-abortion dress, painted with a great fetus, and a handbag featuring the motto "Choose Life."

Also surprising was the absence of the two artists with the most nominations on the red carpet, Jay-Z and Kendrick Lamar, as well as that of Lorde, who, according to local media, did not want to be on the red carpet as she was angry at the Academy for not having proposed her to perform at the ceremony alone, unlike her fellow nominees, all men.

Lady Gaga arrived at the event with a regal attitude, dressed in a long black Armani gown with her hair pulled back and white rose on the chest, emulating a delicate swan.
Camila Cabello was accompanied by her mother and wearing a tight red dress, which she combined with a bag in the shape of a disco ball and a white ring.

Miley Cyrus made it clear that she is no longer a wild teenager as she dressed soberly in a black pantsuit, much more discreet than the eccentric Gucci suit that Elton John donned, with whom Cyrus would later perform.

The brothers Nick and Jon Jonas did not miss the red carpet either, although they walked separately, while Cindy Lauper posed with her fist up, vindicating the feminist struggle.

Accompanied by his wife, the Spanish model Agueda Lopez, Luis Fonsi said on the carpet that he was proud to have opened the door to other Latin compatriots with his smash success "Despacito."

The model Zuleyka Rivera said she was "anxious" to perform alongside Fonsi in "Despacito" at the ceremony and took the opportunity to thank all the brave women who have claimed that women are talented and do not need to go further to demonstrate their worth.

The Californian group La Santa Cecilia, however, highlighted that before Luis Fonsi and Daddy Yankee made such a success, artists like Gloria Estefan or Carlos Santana had already opened doors many years ago.