Miami, Jan 29 (EFE).- Fans will select the name and colors for the Major League Soccer team scheduled to take the field in Miami in 2020, club boss David Beckham said Monday.

"This is the people of Miami's team and we want to involve the fans," the former Manchester United and Real Madrid great said during an event to formally announce the award of the franchise to the investment group he leads, Miami Beckham United.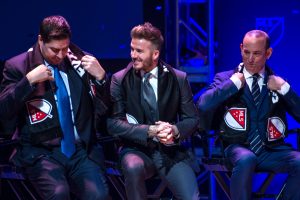 "We have a real opportunity to not just come up with any kind of name. It might be something very organic, very basic, but it might be something different," Beckham said.

"We kind of know in our minds what we would like. But we want the people involved, so we want the fans involved in picking the name, we want the fans involved in picking the colors. That's how we see our club. We're a family club. But we're a club of the people," the long-time England captain said.

A group of fans, calling themselves the Southern Legion, cheered and waved signs and banners, thanking Beckham for bringing an MLS team to Miami.

"This is your club, this is your city and the world is going to be watching what you do to make this one of the great teams in the world," MLS commissioner Don Garber said.
Miami Beckham United plans to build a $225 million 25,000-seat stadium in Miami's Overtown neighborhood.

Beckham's partners in the venture include Sprint CEO Marcelo Claure, MasTec founders Jorge and Jose Mas, SoftBank CEO Masayoshi Son and show-business mogul Simon Fuller.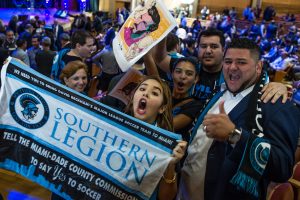 By Garber's admission, the project for the Miami MLS franchise has been difficult due to the local political structure and the fast-changing real estate market.

Beckham originally wanted to build a stadium on Biscayne Bay, next to the American Airlines Arena, home of the NBA Miami Heat. When that was shot down, he looked at a spot near Marlins Park, the where the city's Major League Baseball team plays, only for that move to be blocked as well.

The investors have promised city and county authorities that the stadium and team operations will generate $4 million in tax revenues while creating 50 permanent jobs and 150 seasonal jobs paying well above the minimum wage.

Beckham, 42, retired in 2013 after a 20-year career that included winning league titles in four different countries: England (Manchester United); Spain (Real Madrid); the United States (LA Galaxy) and France (Paris Saint-Germain).

When he joined the Galaxy, Beckham's contract included a provision under which the MLS agreed to sell him an expansion franchise at a discounted price of $25 million. MLS franchises are now going for $150 million.