Washington, Jan 31 (EFE).- President Donald Trump sparked alarm within the FBI on Wednesday by saying that he plans to make public a memo prepared by the Republican party detailing alleged abuses by the agency and the Department of Justice in the investigation into presumed Russian interference in the 2016 election.

The FBI issued a statement saying that it has "grave concerns" about the White House's plans to allow publication of the memo and warning that it contains "material omissions of fact" that could compromise its "accuracy."

"The FBI was provided a limited opportunity to review this memo the day before the committee voted to release it," the agency said in a statement.

"As expressed during our initial review, we have grave concerns about material omissions of fact that fundamentally impact the memo's accuracy," the bureau added.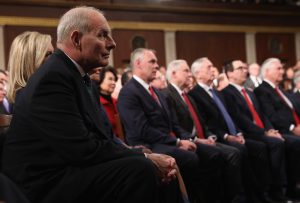 The FBI was reacting to the statements Trump made at his State of the Union address on Tuesday evening, when he promised Republican Congressman Jeff Duncan that he would release the memo.

"Don't worry, 100 percent," said Trump to Duncan on a hot mike after the congressman urged the president to release the memo, as reported Wednesday by several US television networks.

When asked about the matter in an interview with CNN, White House Press Secretary Sarah Huckabee Sanders repeated the government line that, for now, no plans exist to make the memo public and emphasizing that Trump had not been informed of the memo's contents when he made his comments on Tuesday.

But shortly thereafter, White House Chief of Staff John Kelly said in an interview with Fox News radio that the memo would be made public fairly quickly, as soon as the president's national security attorneys finish reviewing it to know what it contains.

The House Intelligence Committee voted on Monday to make public the memo, which was drafted by the staff of Republican Congressman Devin Nunes, and it gave the White House five days to decide whether or not to allow its publication.

According to several press reports, the memo alleges that the former British spy who compiled the famous dossier full of sordid details about Trump, Christopher Steele, provided incorrect information to the FBI, on the basis of which the bureau broadened its monitoring activities on Carter Page, who at the time was advising the Trump election campaign, on the suspicion that he was acting as a Russian agent.

At the time, the FBI No. 2 official, Rod Rosenstein, signed an order authorizing the bureau to monitor Page, an American citizen.

That move has raised Trump's frustration with Rosenstein, who is responsible for overseeing the special prosecutor heading the Russia probe, Robert Mueller, and Democrats fear that the president may use the memo as an excuse to ax Rosenstein and then the special counsel.

Currently, to fire Mueller, Trump would need Rosenstein to authorize the move and the latter has said he would not do so unless there were just cause.