By Lina Broydo
Mariachi Los Camperos are Performing in Napa Valley
February 10, at 7 p.m.
Mariachi is a music of the people. Viva Mexico! Viva America! Two time Grammy Award winner, Mariachi Los Camperos, is returning to the Napa Valley for their third concert!
One of the finest mariachi bands in the world, they were founded more than 50 years ago by Nati Cano, a driving force behind the continuation of the popular mariachi tradition in the US.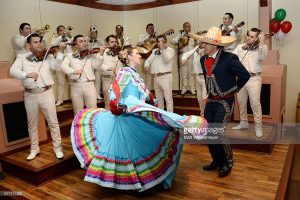 His longtime association with Linda Ronstadt helped propel mariachi music to national prominence. He also made a point of appearing in nontraditional venues where mariachi had never performed before, including Carnegie Hall and DC's Lincoln Theater.
The ensemble has recorded numerous albums to critical acclaim and has made frequent appearances on television and in concert halls around the world. Make it a long weekend getaway to Napa Valley, the world's renowned wine country located right in our backyard.
Tickets and Information
Prices range from $45 to $65
707-944-9900
www.lincolntheater.com
Lincoln Theater
100 California Drive in Yountville
Photo courtesy of Mariachi Los Camperos

AT&T Pebble Beach Pro-Am Golf Tournament on Monterey Peninsula
February 5 to 11
The party is on at the famous AT&T Pebble Beach Pro-Am, with celebrity entertainers and PGA TOUR stars popping the cork on festivities with many special events.
This golfers paradise offers a spectacular view for the golf aficionados as well as the excitement of watching a number of celebrities and the world's best professional golfers. Participants scheduled to appear include two-time champions Dustin Johnson (2009, 2010) and Brandt Snedeker (2013, 2015), 2016 champion Vaughn Taylor and 2011 champion D.A. Points.

Jordan Spieth, the defending AT&T Pebble Beach Pro-Am champion returns to defend his title.Watch for Rory Mcllroy who  is making his first appearance an the AT&T Pebble Beach Pro-Am. Sports champions include pro football stars Aaron Rodgers and Larry Fitzgerald, all-star pitcher Justin Verlander, and surfing icon Kelly Slater.
All player winnings go to a charity of choice. Among the celebrities to appear at AT&T event: the famous comedian and a great golfer Bill Murray is definitely confirmed to entertain the hillside spectating area overlooking the 7th hole which is always packed with cheering fans.
Joining Murray are Clint Eastwood, John Duhamel, Juli Inkster, Huey Lewis, Alfonso Ribeiro, Kelly Rohrbach, Mark Wahlberg, Toby Keith, Carlson Daily, Pat Monahan and Clay Walker, just to name a few. On Feb. 6 the fans can check out the 2017 Houston Astros World Series trophy on display for photos opportunities from 8 a.m. to noon.

For more fun, Wednesday, February 7 at 2:30 p.m. the Million Dollar Hole-in-One for Charity presented by Facebook features the entire field of celebrity amateurs and athletes in the tournament taking a shot at $1 million for an ace on the 7th hole at Pebble Beach Golf Links. Something not to be missed even if you are not a golfer.
Tickets and Information 
Ticket office at (800) 541-9091, or (831) 644-0333.
www.attpbgolf.com
Pebble Beach Pro-Am on Monterey Peninsula
Photos courtesy of attpbgolf.com
Discover the World of Vacations 
February 17 & 18
Your next vacation is waiting. America's favorite travel show is back in the Bay Area. Explore new destinations while experiencing faraway cultures, learn how to save money and travel better.
Meet your favorite travel experts and celebrities who you see on TV and now you can chat with them in person by interacting with Rick Steves, Samantha Brown and Pauline Frommer at the 2018 San Francisco/Bay Area Travel & Adventure Show.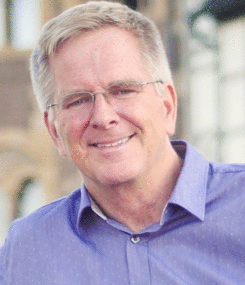 Lots of give-aways and savings with exclusive show-only travel deals. This is your chance to Imagine yourself trekking through the Sahara desert while on a camel. All ages welcome.This show is definitely for me and you.
Tickets and Information
Prices start at $15
Use Promo Code SFPC18 for $9 discounted price ticket
408-748-7000
www.travelshows.com
Santa Clara Convention Center
5001 Great America Parkway in Santa Clara
Plenty of free parking
Photo of Rick Steves courtesy of Travel & Adventure Show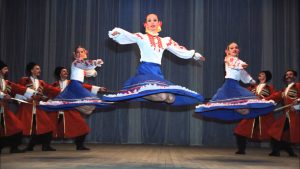 The 2018 Russian Festival and Celebration in San Francisco 
February 9-11
No need to travel to Russia this February. Say "DA" for a day in the Bay Area. Concerts, performing dance groups from all over California, singers, blini, vodka tasting, art gallery tour and gift and food courts are all ready for your wild and fun weekend at the 30th Annual Russian Festival in San Francisco.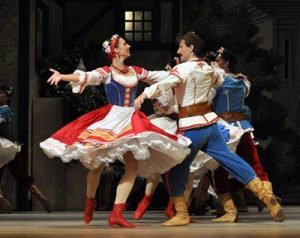 Enjoy all the flavors of the Russian-American experience by sampling piroshki, borsch, pelmeni and ever popular flavored vodkas which require a designated driver to deliver you safely home.
Don't miss the historic treasures on display at the Museum of Russian Culture and and an exhibition of original paintings in the Center's Art Gallery.
Free face painting and craft for kids.
The wonderful souvenirs of Russian scarfs, Baltic amber, the famous lacquer boxes and everyone's favorite sets of colorful matryoshka dolls are available for sale.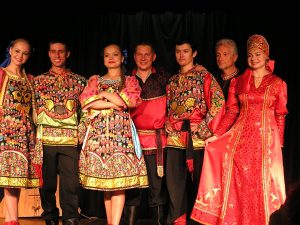 Tickets and Information
Prices range from $8 to $12
Children under 12 free
415-921-7631
www.russiancenterSF.com
Russian Center of San Francisco
2450 Sutter Street in San Francisco
Parking across the street
Photos courtesy of Russian Festivals