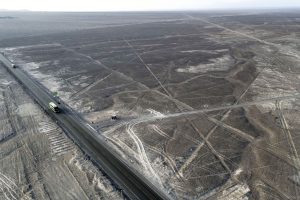 Lima, Jan 31 (EFE).- A Peruvian judge ordered the release on bail of the trucker who damaged a portion of the ancient Nazca Lines by driving over the pre-Hispanic geoglyphs with his tractor-trailer, judicial authorities said Wednesday.

Judge Orlando Carbajal, who presides at the 2nd Preparatory Investigation Court in Nazca, rejected prosecutors' request that the trucker be held in prison for nine months while he awaits trial, ruling that they had not demonstrated either the requisite illicit conduct or the procedural danger justifying such a move.

The magistrate ruled that Jainer Flores, charged with damaging the nation's cultural and paleontological heritage, may remain at liberty although he must present himself at court every two weeks, request authorization if he wants to change his residence and put up bail of 5,000 soles (about $1,550).

The incident occurred on Jan. 27 at Kilometer 424 on the Pan-American Highway South when Flores drove his truck off the paved roadway, apparently to avoid paying a toll, despite signs warning motorists that the highway runs through the United Nations World Heritage Site's archaeological area.

The vehicle left its tracks along a five-kilometer (3.1-mile) stretch of grassland where more than 1,500 years ago the Nazca, one of Ancient Peru's great civilizations, carved huge lines and figures of animals – which still remain to this day – into the landscape.

The world famous Nazca Lines are located in Peru's southern coastal region and consist of geoglyphs of animals, human-animal figures, plants and geometric designs that can only be completely seen from the air because of their huge size.

The awe-inspiring carvings were discovered in 1927 and are the most important legacy of the Nazca culture, which existed between 100 AD and 600 AD.