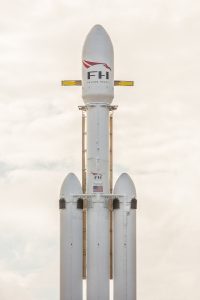 Miami, Feb 5 (EFE).- The gigantic Falcon Heavy rocket, with which the private company SpaceX plans to undertake future manned missions to Mars, will lift off on Tuesday from Cape Canaveral's Kennedy Space Center on a test flight that – for the first time – will take an automobile into space.
If weather and technical conditions allow, the Falcon Heavy will lift off on its maiden flight at 1:30 pm.

SpaceX president Elon Musk, who simultaneously heads the Tesla automobile manufacturing company, confirmed Monday on his Twitter account that "All systems remain green for launch at 1:30pm EST tomorrow."

The flight is designed to test whether the Falcon Heavy, which is 70 meters (some 230 feet) long and can carry payloads of more than 66 tons, can be used to take cargo into space.

A red Tesla – the electric car manufactured by Musk's auto firm – will be the cargo that the rocket will carry into an orbit near Mars if the mission plays out as planned.

The latest test prior to launch took place on Jan. 24 and was successful, consisting of igniting the rocket's 27 engines simultaneously.

As occurs with the launching of other SpaceX rockets, it is expected that three of the Falcon Heavy's boosters will be able to be recovered for future use.

Tuesday's launch is one of the most highly anticipated space missions since those of the 1961-1972 Apollo program which took man to the Moon, so much so that tickets have sold out to people wanting to witness the launch from nearby, and it is expected that thousands of people will be on hand at Cape Canaveral for the event.

The Falcon Heavy is awaiting launch on the same pad – 39A – from which the Apollo missions took off.