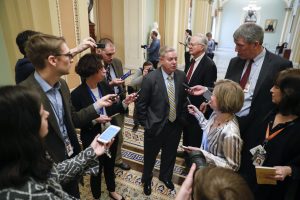 Washington, Feb 7 (EFE).- Senate Majority Leader Mitch McConnell on Wednesday announced a "bipartisan agreement" between Republicans and Democrats on a two-year budget deal just two days before the deadline for another government shutdown.

He also said that the deal has the support of the White House, although he did not provide any specifics in that regard.
McConnell said the deal includes increases of almost $300 billion for defense spending and domestic programs, $80 billion-plus in disaster relief and raises the debt ceiling. However, it does not include funding for border security or deal with protecting young illegal migrants brought to the US as children.

"The compromise we have reached will ensure that for the first time in years, our armed forces will have more of the resources they need to keep America safe," McConnell said in the Senate on Wednesday.

He added that the accord includes a sizable disaster relief package that will help Puerto Rico, Florida and Texas recover from Hurricanes Maria, Irma and Harvey last year.

McConnell said the bill had required "extensive negotiation," and while "no one would suggest its perfect, … we worked hard to find common ground and stay focused on serving the American people."

Funding to keep the federal government operating expires at midnight on Thursday, and thus it is expected that the budget deal will be approved before that.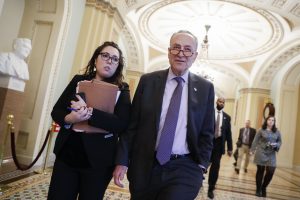 The accord would suspend the federal debt ceiling, which was expected to be reached at the beginning of March, through March 2019 – and thus after the 2018 mid-term elections – and it would increase defense spending for Fiscal 2018 by $80 billion and for Fiscal 2019 by another $85 billion.

Defense spending had been slated to increase by $63 billion this year and $68 billion next year.

An extension for current funding through March 23 will be also approved in the Senate, as was done on Tuesday in the House, while lawmakers still will have to work out the long-term details.

Meanwhile, Senate Minority Leader Chuck Schumer said that the agreement was "a genuine breakthrough" and addressed other Democratic priorities although Senate Democrats have shelved their strategy to use the budget fight to obtain immigration concessions and extend protections for the so-called Dreamers.

House Minority Leader Nancy Pelosi said she would oppose the deal because it does not include protections for the Dreamers, young undocumented migrants brought to the US as children.

Democrats did manage to get $6 billion in funding to deal with the opioid crisis and drug addiction, one of their key demands, and the package includes $20 billion in funding for infrastructure repair and improvement.