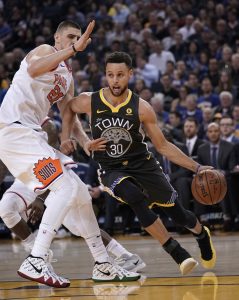 Oakland, USA, Feb 12.- Golden State Warriors coach Steve Kerr sprung a surprise Monday night after he his players decide their strategy for the game, which they went on to win easily by crushing the Phoenix Suns 129-83 at the Oracle Arena in Oakland.

Kerr used new ways to capture his players' interest by handing over the clipboard during timeouts or rotating a cast of players.

Power forward Draymond Green and guard Andre Iguodala ran most of the huddles during the game, in which the reigning champions faced no pressure from a much inferior team.

Stephen Curry was the top scorer for the Warriors, with 22 points, nine rebounds and seven assists, while another four players notched double-digit scores including Omri Casspi, who put up a double-double with 19 points and 10 defensive rebounds.

Forward Kevin Durant made 17 points while guard Klay Thompson and reserve Nick Young added 16 each to give the Warriors their 12th consecutive victory against the Suns in the series.

Curry's 22 points gave him and his father, Dell, a combined 28,883 points and put them into a third-place tie with Rick and Brent Barry in career scoring among NBA father/son combinations with Joe and Kobe Bryant at the top the list with 38,895.

Point guard Elfrid Payton scored 29 points in his second game with the Suns after he was traded by the Orlando Magic on Thursday but could not stop his team from its sixth consecutive defeat and 11th in the last 12 games.