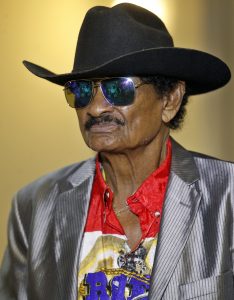 Havana, Feb 13 (EFE).- Several generations of the most authentic singers of Cuba's "son" musical style have joined in a project to keep traditional Cuban music alive, defend it as the origin of all Caribbean rhythms, and win it new audiences.

Legends of the genre like "Tiburon" Morales, Rolando "El Muso" Montero and Pedrito Calvo, who was a member of the legendary Los Van Van orchestra, share this mission with younger voices like Haila Maria Mompie, Mayito Rivera, Carlos Calunga, the successor of Ibrahim Ferrer at the Buena Vista Social Club, and Carlos Sanabia, director of this project known as the Soneros Dorados Club.

"A lover of wonderful things like son," Sanabia decided to bring together some 20 Cuban singers and musicians to record the disc "Pregones Dorados" (Golden Proclamations), featuring 12 unreleased songs that he composed. The new album will go on sale March 31 on the island, and internationally on June 1 in Colombia.

"Traditional music is no longer popular in Cuba like it used to be 20 or 30 years ago. We're trying to make the tradition live again and take it to every corner of the world," the young composer, born in Santiago de Cuba, home of the son, told EFE.

The result has been this project, which seeks to replicate the international success of the Buena Vista Social Club, which last year retired from the stage after 20 years of taking traditional Cuban music worldwide with the likes of Compay Segundo, Ibrahim Ferrer, Eliades Ochoa and Omara Portuondo.

As those musicians have already shown, "it's no secret to anyone that this music is very much appreciated abroad," said Sanabia, who wants the Soneros Dorados Club to win followers among young people against the fashion for reggaeton.

"Carlitos had the idea of getting us together and here we are. We feel really happy to do our bit for the culture of our country," "Tiburon" Morales, 82, said.

For this legendary son singer, "the hymn, the flag and the folklore have to be united, because otherwise we're lost."
Haila Maria Mompie, the coach on a successful musical talent show on Cuban TV, said for her part that "we are the island of music. I believe that son can still win hearts, even among the young."

Mompie also noted the power of son as a basis for exploring new musical trends. "Many other kinds of music are derived from son," she said, adding that "without son, there's no music."