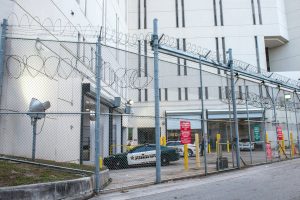 Parkland, Florida, Feb 15 (EFE).- Five of the people wounded in the shooting at a high school in Parkland, Florida, are still listed in critical condition, hospital spokesmen told EFE Thursday.

Of the 15 wounded people transported from Marjory Stoneman Douglas High School to the Broward Health North hospital and Broward Health Medical Center on Wednesday, two died, five are in critical condition, three are in stable condition and the rest are recovering.

Special areas have been set aside for the victims' relatives at a nearby hotel and at the hospitals, where members of the clergy and rabbis are providing counseling, a Broward Health North spokesman said.

Doctors, police and Florida Gov. Rick Scott plan to hold a press conference at 10:30 am.

The suspect, identified as 19-year-old Nikolas Cruz, is being held at the Broward County Jail in Fort Lauderdale and has been charged with 17 counts of premeditated murder.

Cruz, who was expelled from the high school for fighting with his ex-girlfriend's new boyfriend, used smoke grenades to set off the fire alarms and opened fire with a semiautomatic weapon, media reports said, citing investigators.

President Donald Trump is scheduled to deliver an address Thursday morning on the mass shooting in South Florida.

"The President will address the nation at 11am today on the tragic shooting in Parkland, Florida," White House spokeswoman Sarah Huckabee Sanders said in a Twitter post.