March 23, 1994
By Yolanda Reynolds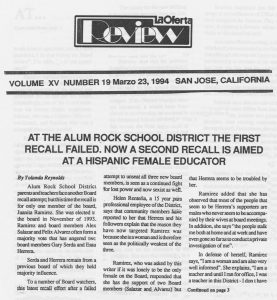 Alum Rock School District parents and teachers face another Board recall attempt; but this time the recall is for only one member of the board, Juanita Ramírez. She was elected to the board in November of 1993. Ramirez and board members Alex Salazar and Félix Álvarez often form a majority vote that has angered two board members Gary Serda and Esau Herrera.
Serda and Herrera remain from a previous board of which they held majority influence.
To a number of Board watchers, this latest recall effort after a failed attempt to unseat all three new board members, is seen as a continued fight for lost power and now sexist as well.
Helen Renteria, a 15 year para professional employee of the District, says that community members have reported to her that Herrera and his followers explain that the reason they have now targeted Ramirez was because she is a woman and is therefore seen as the politically weakest of the three.
Ramirez, who was asked by this writer if it was lonely to be the only female on the Board, responded that she has the support of two Board members (Salazar and Alvarez) but that Herrera seems to be troubled by her.
Ramirez added that she has observed that most of the people that seem to be Herrera's supporters are males who never seem to be accompanied by their wives at board meetings. In addition, she says "the people stalk me both at home and at work and have even gone so far as to conduct a private investigation of me."
In defense of herself, Ramirez says, "I am a woman and am also very well informed." She explains, "I am a teacher and until I ran for office, I was a teacher in this District – I don't have to ask a lot of questions, and if I have questions, I do that during the Board review." She adds, "I do not grandstand."
Ramirez explains that her concern for the education of children and the financial condition of the school had prompted her to run for the Board. Interestingly, two of the Board members are former district employees, Salazar. who was a District Office administrator, and Ramirez who was a bilingual classroom teacher.
Ramirez says that, when she ran for office, she along with Salazar and Alvarez promised that they would balance the District's long standing and growing budget deficit, controls pending and make effective use of the general obligation bond money; a portion of which was to be used for a new school facility for students (mostly minority youth) that had been scattered throughout the District in order to keep other schools, with declining enrollments, open.
According to school records, the previous school board had decided in early January of 1993 by 4-1 to build a new school for the large number of children who reside on the north side of Alum Rock Ave. That is, for youth residing in the Rancho Verde/Alexian Brothers Hospital neighborhoods.
Children living in these areas have had to be bused for thirty years – that, Ramirez says, adds greatly to the cost of operating the school district.
The lone dissent on that vote was Gary Serda who preferred to delay the vote and said that more analysis was needed.
Herrera who originally voted for the new school, now opposes the construction of a new school and, supported mostly by European American parents, is using this decision to attempt to recall Ramirez, and now says that the new school "is not needed."
The money for the new building is in a separate account from the District's operating budget. At the same time that the District has funds for a new school building its operating budget was overdrawn by millions. That cumulative debt, Ramirez says, was $10 million.
Ramirez says that the previous Board had allowed the operating deficit
to grow over the previous five years was due, primarily, to pay increases for the staff. By law, school districts, can not operate with unbalanced budgets. If the District's budget were not balanced, it would have been placed in receivership, as occurred in the Richmond School District. When that occurs, the State Department of Education removes the Board and assigns an individual to balance the budget.
Ramirez says that her concern over the threatened receivership was that the necessary cutbacks would likely have been made without regard to program and or essential personnel and would likely only focus on the need to balance the budget.
Ramirez said that she was also concerned that, under those conditions, the community, parents, students, teachers and staff would have had little or no say in how the district was operated, not would they have been able to influence the impact of those cuts on the education of the children. She says that normally, in a "receivership", the primary objective of state officials is simply to balance the District's budget.
Another issue not often mentioned, Ramirez says, are reports that the classified union that represents the para professional and other school building personnel accepting teachers, are in a quandary over an attempt to have their union, the CSEA (California School Employees Association) decertified.
"Decertification." Ramirez explained, would then allow certain interest to press for enrolling the current CSEA membership into the Teamsters Union.
Ramirez explained that this attempt at decertification of CSEA has been instigated by Herrera. That, she says, 15 creating a division within the ranks of the classified staff.
At a recent Board meeting, a classified staff person reported to the Board that although she was not happy about not receiving an increase in her salary last year she felt that the cutbacks, necessary to balance the budget and should be shared by all in the District. She added that she was proud to play a part in making the District solvent.
Ramirez says that the role of the instructional aides differs from that of the bus drivers, janitors and ground keepers, thus causing controversy
among the staff. Furthermore, she adds, union certification and membership is a matter for the District personnel themselves and is not a matter that should directly involve a Board member.
Another issue that became distorted, Ramirez says, was the rejection of an intended sale of part of the school yard property at the San Antonio school site. She explained that the new Board majority voted against the intended sale because of a State Department of Education report, which indicated that the sale of the school yard property would reduce the ratio of school yard area to student population below that required by State law.
Ramirez says that the nearby residential areas already suffer from a lack of playground/open space for children and additional concern beyond the need for adequate space for the children during recess time.
The property was sought by the Mexican Heritage Corp., an organization with strong ties to Board member Serda. San Jose City Council member Blanca Alvarado is the leading force of the Mexican American Heritage Corporation and is also involved in the recall effort against Ramirez.
Vicky Valdez, a parent in the District, and also an employee of the District, a para professional, says that the controversy with the Board is more about who makes the decision not the actual decision. Valdez explained, "I think Herrera would have had to make the same decision the Board majority has made but, what separates them is who is making the decisions."
Her husband Rick added. "If he (Herrera) would work with Salazar this would be an incredible District and Board" and adds, "the goal is the same but this is all a power play."
Rick Valdez is critical of Herrera's attempt by naming his group "Unidos," to lure the Hispanic vote to his side, for his attempt to recall Ramirez when, Valdez says, "his (Hererra's) key support is from the white parents in the District."
Valdez says that he sees Herrera as an "opportunist" who seems to go along with special interests rather than what is good for the students. He gave, as an example remarks he overheard Herrera make concessions in their salary negotiations in order to balance the District's budget.
Valdez and his wife said that their views on education and the situation in the Alum Rock School District were based on their long-time commitment to service at the school. They were heavily involved in after school programs like Girl Scouts and after school sports for their children, who all attended the Alum Rock School district and who are now all grown and gainfully employed professionals. The Valdez' were awarded lifetime membership in the PTA for their many years of service in the District's chapter.
Valdez says that her experience in the school system has convinced her that, "we Latinos are the ones to help our people." Although there are exceptions, she says, "too often others are ready to stereotype our students." That she described, even occurs in dealing with the ethnic staff.
To end the high dropout and the lack of respect for the culture, history, and tradition of the student population requires the direct participation of the parents.
Valdez says parent participation is essential. She explains that, in her 21 years of involvement in the business of educating children, she has seen a decline in the school environment and, without parent participation, this situation will not improve.
Bob Beltran, a resident of the District, former Alum Rock student and recent San Jose graduate, says that he realized the lack of role models in the classroom for himself. It took him a long time to visualize himself as a teacher which he is very pleased to have now become. Beltran completed his degree in 1993 and has now completed a year long internship as a bilingual instructor in the Campbell Middle School in Campbell. Beltran says, "I never imagined myself in a position of authority and that," he says, "is a big obstacle."
Supporters of Ramirez held a fund raising barbeque for her defense last Sunday afternoon at Lake Cunningham.
Recall organizers are also meeting to develop their strategy to unseat Ramirez.
Serda told "La Oferta" that he does not plan to remain on the Board. He gave several reasons, among them, that he and his wife are expecting a second child and wants to have more personal time.
To contact either Board member, the District office telephone is 258-2943. © La Oferta Newspaper.