Mexico City, Feb 18 (EFE).- Mexico's political parties on Sunday officially nominated their presidential candidates, who will face off in the July 1 election to succeed President Enrique Peña Nieto.

Before some 18,000 delegates gathered at Mexico City's Foro Sol, Jose Antonio Meade was officially declared to be the presidential candidate of the Institutional Revolutionary Party (PRI), which heads the "Todos por Mexico" (Everyone for Mexico) coalition with the PVEM Green party and the New Alliance.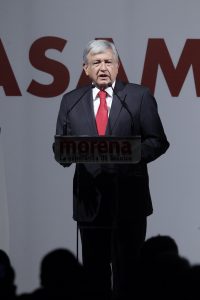 Meade is a respected former finance minister, although the PRI's popularity among voters is currently so low that it resorted to nominating a non-party member to head its presidential ticket.

Ricardo Anaya was proclaimed the presidential contender for the "Por Mexico al Frente" coalition comprised by the National Action Party (PAN) and the leftist Democratic Revolution (PRD) and Citizens Movement (MC) parties.
Anaya is a young former lawmaker who has been tainted by corruption allegations and accused of forcing his way forward to obtain his party's nomination.

Andres Manuel Lopez Obrador was confirmed as the presidential candidate of the coalition comprised of the National Renewal Movement (Morena) and the Labor (PT) and Social Encounter (PES) parties in a Mexico City hotel.

Lopez Obrador has fruitlessly run for president twice before and promised thorough changes for Mexico in accepting the Morena party's nomination, vowing to revamp public health and education, end the privatization of state resources and improve quality of life for the poor.

The official nomination of the presidential candidates came a week after the pre-campaign period ended, during which the parties focused on their internal procedures and primaries to select their standard-bearers.

The presidential campaign will officially start on March 30. Some 88 million Mexicans are eligible to vote for president and for 3,200 other elected posts in 30 of the country's 32 states.