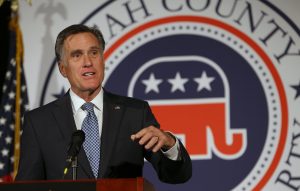 Washington DC, Feb 19 (EFE).- The president of the United States Monday voiced his support for a former Republican presidential candidate of the 2012 elections, who will run for a Senate seat from Utah in November.

Despite their rivalry, Donald Trump expressed on his Twitter account "all my support and endorsement" for Mitt Romney and considered him a "worthy successor" to Orrin Hatch, the current US senator from Utah who announced earlier in 2018 that he would retire after more than four decades in office.

"Mitt Romney has announced he is running for the Senate from the wonderful State of Utah. He will make a great Senator and worthy successor to Orrin Hatch, and has my full support and endorsement!!" Trump said on Twitter.

Romney, who was governor of Massachusetts, has been an active critic of Trump since the 2016 presidential campaign, when he labeled the then Republican presidential candidate "a fraud."

However, following Trump's victory in the presidential elections, Romney was considered a possible candidate for his secretary of state.

Romney, a Mormon, retains extensive support in Utah, as he is a Utah resident and was in charge of organizing the 2002 Olympic Games in Salt Lake City.