By Lina Broydo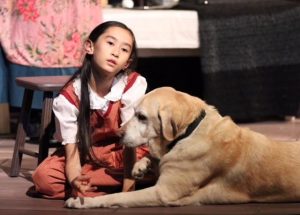 The Miracle Worker in San Jose
Through March 11
Follow the impassioned journey of two remarkable women, Annie Sullivan and Helen Keller, as they explore and embrace the choices before them. For 20-year-old Annie Sullivan it was to take or reject the assignment to tutor a blind, deaf, spoiled, and wild child.
For Helen Keller the choice was to stay in her dark and silent world or embrace the opportunity to break open the world she knew. Annie Sullivan embarked on a journey that would change the life of her charge, Helen Keller, who would, in turn, change the lives of others for generations. This Tony-award winning play The Miracle Worker,  written by William Gibson, based on Helen Keller's autobiography The Story of My Life.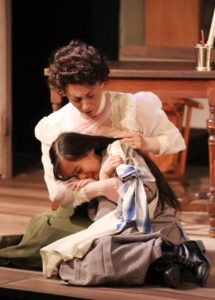 The Miracle Worker reveals the power of commitment and strength when the choice is made to reach beyond the understandable and tangible. Pre-show Events: 30 minutes prior to each performance there will be two pre-show events: Guide Dogs in training and sign language demonstration by cast members Chloe Allen and Ruby Solomon.
Tickets and Information
Prices range from $32 to $44
408-679-2330
29 N. San Pedro Street in San Jose
Photos courtesy of The Tabard Theatre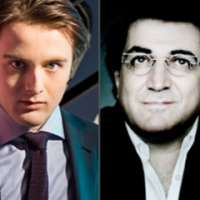 Piano Virtuosos Trifonov and Babayan in Recital in San Francisco
February 27 at 8 p.m.
Every time Daniil Trifonov performs in the Bay Area – don't miss it! The brilliant young pianist Trifonov teams up with his teacher and mentor Sergei Babayan for two-piano recital at Davies Symphony Hall in San Francisco.
Hailed as "a talent compelling and thrilling enough to lift you right out of your chair," (The Seattle Times) Daniil Trifonov collaborates with Sergei Babayan in his "unequaled touch, perfectly harmonious phrasing, and breathtaking virtuosity" (Le Figaro) in a program celebrating music by Schumann, Mozart and Rachmaninoff for two pianos. Come early for a pre-show event: "Leonard Bernstein and the San Francisco Symphony" A Special Exhibit as the San Francisco Symphony continues their celebration of the centennial of Leonard Bernstein's birth with this special exhibit, on display through February 28 located on the First Tier Lobby.
The exhibit examines the unique relationship between the Symphony and Bernstein as a conductor, composer, educator, activist, and friend.
Tickets and Information 
Prices range from $37 to $99
415-864-6000
Davies Symphony Hall
201 Van Ness Street in San Francisco
 Photo courtesy of SF Symphony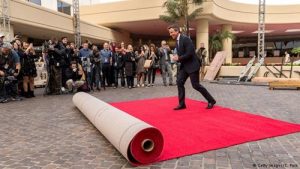 Red Carpet Evening in the Wine County
March 4. Red Carpet opens at 4 p.m. Oscars Telecast begins at 5 p.m.
No need to travel to Los Angeles for the 2018 Oscars Academy Awards ceremony! Our neighboring Alexander Valley Film Society rolls out the red-carpet with a dash of Hollywood glamour at the Alexander Valley Film Society fundraiser event of film, fashion, food and fun (did I say wine?) at the picturesque Trione Winery in Geyserville located in the beautiful Sonoma Wine County.
Featuring a silent-auction lounge and the Academy Awards ceremony on the big screen during an elegant seated dinner by Chef Tim Vallery, you too can feel and look like a movie star.
Suggested attire: black tie. Be ready for a Kodak moment or as the modern times say: your high-tech i-phone image.
Tickets and Information
Price: $200
707-893-7150
Trione Winery, Sonoma County
19550 Geyservile Avenue in Geyserville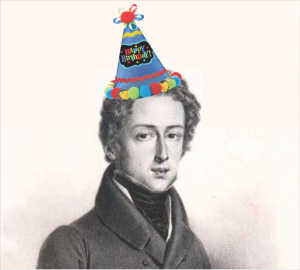 Chopin's Birthday Concert with Pianist Eric Lu
February 25 at 4 p.m. 
Happy Birthday Frederic Chopin! Join the San Francisco Chopin Foundation in a celebration of the legendary composer's 's birthday as they present a special concert by pianist Eric Lu, the First Prize Winner of the 2015 U.S. National Chopin Competition held in Miami, and First Prize Winner—and Audience Favorite Winner—of the 2017 International German Piano Award in Frankfurt. In 2015 at age 17 Eric Lu won 4th Prize at the 17th International Chopin Competition in Warsaw, becoming one of the youngest laureates in its history.
Eric Lu has performed by invitation at Carnegie Hall, Auditorio Nacional in Madrid, Tapei National Concert Hall, Beijing Concert Hall, Krakow Philharmonic Concert Hall, and the Warsaw Philharmonic in it's performance of the Arthur Rubinstein Philharmonic orchestras. In the past years the Chopin's celebration featured such distinguished prize-winning pianists as Jon Nakamatsu, Gabriela Montera, Ning An, Claire Huangci and Eric Zuber, among many others.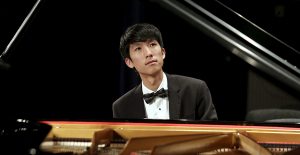 This year's concert will take place at San Francisco's Old First Concerts venue, a perfect hall to hear this superb artist at close range and with brilliant acoustics.
Doors open at 3:00 pm before the concert for Birthday Cake and Champagne orchestrated and served by Caria Tomczykowska, The Polish Arts and Culture Foundation (PACF) Executive Director and its charming ambassador. Cheers!
Tickets and Information 
Prices range from$5 to $23
415-474-1608
Old First Concerts
1751 Sacramento Street
Discounted parking available at Old First Garage, half a block away from 1725 Sacramento Street.
Photos courtesy of PACF