Bogota, Feb 26 (EFE).- The National Liberation Army (ELN) said Monday it was declaring a cease-fire ahead of Colombia's legislative elections next month and proposed resuming peace negotiations with the government.

"As we get closer to the March 11 elections, even though we do not endorse these flawed processes, as a show of respect for Colombia's women and men who will cast a vote, the ELN will cease offensive military operations between March 9 and 13," the rebel group said in a statement dated Feb. 25 and posted on its website on Monday.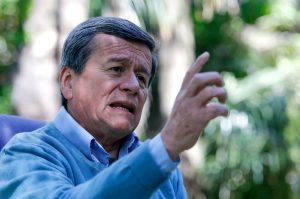 On Sunday, March 11, Colombians will vote for members of both houses of Congress and, for the first time, former guerrillas of the demobilized Revolutionary Armed Forces of Colombia (FARC) will run as candidates of the newly created Revolutionary Common Alternative Force (FARC) party.

The ELN called on President Juan Manuel Santos to "set a date to start the fifth round of talks and send a delegation for dialogue to Quito (Ecuador). On that date, all our delegates will be going to the Ecuadorian capital too."

The agenda agreed upon for the talks "must continue advancing with rigor and expediency, with respect to the tools and protocols established and seeking an agreement to end the armed confrontation and work for transformation to a Colombia with peace and justice."

On Jan. 29, Santos suspended the peace negotiations with the ELN in response to a series of attacks by the insurgent group that killed seven police officers.

The bombings staged by the ELN killed five police officers and wounded 41 others in Barranquilla; wounded five officers in neighboring Soledad; and killed two officers and wounded two others in Buenavista, a village located outside the city of Santa Rosa, in Bolivar province.

An ELN urban guerrilla unit claimed responsibility for the attack in Barranquilla.

The peace negotiations between the government and ELN started in Quito on Feb. 7, 2017.