Mexico City, Mar 7 (EFE).- With an exhibition of traditional Mexican embroideries mounted on 30 faceless female mannequins, designer Maria Luisa de Chavez seeks to denounce "the critical situation women face" in a country where seven femicides are registered per day.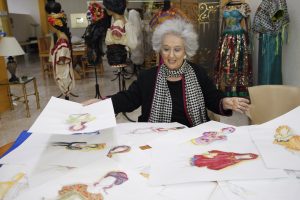 "This is a protest against the brutal abuse and denigration of women," Maria Luisa told EFE in her new studio in southern Mexico City, where she had to move after her old studio was damaged during last year's September earthquake.

The exhibition, titled "Sentimientos bordados" (embroidered sentiments), will open to the public at the International Museum of the Baroque in Puebla city on Thursday, March 8, which is International Women's Day.

The beautiful embroideries, designed by Maria Luisa and made by Mexican artisans, represent traditional dresses from many different regions in Mexico, including an embroidery with seashells from the port of Acapulco and an embroidery depicting monarch butterflies from the western state of Michoacan.

There is one embroidery, however, that stands out from the rest because it is mounted on the only mannequin with a face, representing Death, a colorful yet sinister figure, typical of Mexican culture, with which the designer symbolizes the scourge of femicides.

"This is a call so that everyone can realize the critical situation women face," Maria Luisa said.

Mexican culture is undoubtedly a great inspiration for the artist, who previously designed a collection of paper and plaster corsets painted in memory of the iconic Frida Kahlo, who "had a mirror over her bed so she could paint her bustier," Maria Luisa explained.

Frida is depicted on one of those corsets, although Maria Luisa's favorite piece was painted by an artisan from the southern state of Guerrero, portraying a Day of the Dead procession.