"From the time McEnery became Mayor in 1982 the number of homeless people has gone from almost 0 to over 18,000." – Sandy Perry, Housing Advocate
May 25, 1994
By Yolanda Reynolds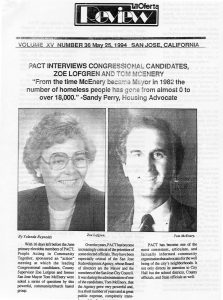 With 16 days left before the June primary elections members of PACT, People Acting in Community Together, sponsored an "action" meeting at which the leading Congressional candidates, County Supervisor Zoe Lofgren and former San Jose Mayor Tom McEnery were asked a series of questions by this powerful, community/church based group.
Over the years, PACT has become increasingly critical of the priorities of some elected officials. They have been especially critical of the San Jose Redevelopment Agency, whose Board of directors are the Mayor and the members of the San Jose City Council. It was during the administration of one of the candidates, Tom McEnery, that the Agency grew very powerful and in a short number of years and at great public expense, completely transformed the downtown area.
PACT has become one of the most consistent, articulate, and factually informed community organization that advocates for the well being of the city's neighborhoods. It not only directs its attention to City Hall but the school districts, County officials and State officials as well.
PACT spokesperson, Dennis Haggerty, explained that Sunday's "action" had a number of objectives, one of which was to make clear that the PACT membership expects that whoever is elected to serve the community in Washington understand that, with the privilege comes a responsibility to respect, to respond to, and to be accountable to people and PACT.
The PACT membership, which in this City numbers over 35,000 families, also wanted a clear understanding of the positions of the two candidates on such issues as housing/homelessness job opportunity development, job training, the prevention of crime, the prevention of violence in the community (in particular, among the youth), the prevention of the use of drugs and the extent of their support for education.
As is traditional with PACT "actions," the afternoon session began with a short prayer which was conducted by the Reverend Stephen Dietrich of the Evergreen Presbytery after which, Father Mateo Sheedy pastor of Sacred Heart Church described the context in which the questions had been determined. Sheedy explained that, for him, the day's gospel described the situation in which many of the city's residents find themselves. That is, there are parts of the city that, by design or because of benign neglect have been "red lined" and deprived of the governmental services needed to keep those neighborhoods alive. In the day's gospel, Sheedy had recounted that Ezekiel asked God for help for his people and pointed to an area which was littered with bones Sheedy relates that God replied, "I will breath life back into those bones." That, "breathing life into our neighborhoods," Sheedy said, needs to happen in many parts of our City, as well. And, he explained, that the people, with the help of government, can restore their communities to life.
According to Father Bob Moran, associate pastor at Saint Patrick's Church, "special interests have been dominating the Santa Clara Valley, as elsewhere— taking resources from youth, neighborhood, job training programs and subsidized housing." He adds, "too many of our families work hard at the minimum wage, go to insecure public schools, and into substandard housing."
The U.S. Congressional District 16 stretches through most of San Jose, Gilroy, Morgan Hill including portions of Milpitas and through unincorporated areas of southern Santa Clara County. Congressman Don Edwards has served as the representative of that District for 32 years. Several months ago he announced that he was retiring at the end of the 1994 session.
It is likely that whichever of these two candidates wins on June7 will be the winner in November.
U.S. Congressional seats are partisan positions and, since the great majority of the voters in District 16 are Democrats, a significant Republican challenge is not likely.
The candidates both made a commitment to give their attention to the issues raised by PACT.
Regarding housing, the former Mayor said that he had built thousands of houses in the Evergreen Valley area.  He explained that he knew Henry Cisneros (formerly the Mayor of San Antonio, Texas) and that he shared Cisneros' concern for more low and very low income housing. McEnery said that, if elected, he would work closely with Cisneros on housing.
Housing has been a big issue in San Jose for a number of reasons. Tha lack of such housing is one of the major reasons for the rising tide of protest regarding the city priorities. In San Jose, it is the mayor who has almost total control of the Council's actions. As a former mayor, many hold Tom McEnery responsible for conditions in the City.
It was the City Council, during the McEnery administration and acting as the Redevelopment Agency Board that caused much of the low and very low cost housing to disappear from San Jose. And, contrary to Redevelopment law, little, if any, of that housing has been replaced.
There seems to be an unwillingness or inability of the Council Agency Board to replace the housing which was destroyed downtown to make room for the hotels, the convention center, the shopping mall the arena and other structures that were built as a part of the "redevelopment" of downtown.
Sandy Perry a San Josean and long-time advocate for housing, especially for those people who are homeless, says; "I don't understand what he means when he says that he built homes in Evergreen – those are not homes for the low and very low income people in San Jose." He adds, "From the time when Tom McEnery became Mayor in 1982, the number of homeless people has gone from almost 0 to over 18,000 by 1994.
In ironic contradiction to those statistics is the fact that Redevelopment Law formally requires that at least 20% of the money collected from "redevelopment areas" be spent on housing. Further it states that housing that is destroyed, be it low and very low cost be replaced in the area that it was in. Over time, city officials from San Jose and elsewhere have lobbied to overturn the law restricting where the replacement housing is to be built.
In San Jose, housing advocates say that replacement housing in other parts of the county is not appropriate and they continue to press for the replacement of low and very low cost housing in downtown San Jose, where, it formerly was abundant.
Perry points out that there are virtually no SRO (Single Room Occupancy) housing units left in the downtown area. This is more of a problem now than it was in years past because so many of the new jobs that have been created in downtown San Jose are low paying, minimum wage, part time service jobs at the new hotels, restaurants and arena.
This writer recently toured one of the remaining downtown SROs in downtown San Jose. It was in great disrepair. As recent as three weeks ago, the tenants for this SRO were charged $425 a month to rent a room even though the doors to the rooms could not be locked front inside, and the toilets and shower hardly appeared to be functioning in a run-down dilapidated building.
As can be seen in the photos that accompany this article, the conditions of this SRO are in desperate need of repair. The plumbing and walls needed repair and even worse, the toilet and shower are likely incubators of disease carrying organisms.
As Father Sheedy pointed out at the introduction of the afternoon's "action", there have been areas-whole communities that have been denied governmental services.
The SRO hotel in downtown San Jose is one such example. As community advocate Juan Haro asked on the tour of this SRO "where is code enforcement – did the police report the squalid conditions of this SRO to the City' s code enforcement department."
The police had been there-since the hotel had been identified as having drug problems.
Besides this building being a fire hazard, the availability of only one bathroom and shower for the almost forty rooms each of which is rented for $425 at month rent, suggests that the landlord had no concern for the property or the tenants and was satisfied with just collecting the rents.
This SRO is just a half block from the luxurious Fairmont Hotel where millions of public dollars were spent on a hotel for overnight visitors to San Jose.
There are rumors that the Fairmont Hotel is for sale. That rumor seems plausible since, not long ago the hotel asked to sell and did sell the first floor to the City for $5 million. The reason given for the buyout was to "help the hotel through a tough economic period."
Business does not seem to have improved that much.
Recently, the police, numbering almost two for every housing advocate at a housing for the homeless people protest near the Fairmont Hotel, watched the demonstration from across the way at Plaza de Cesar Chavez. After a while the police decided to drive the protesters out of the area.
The horse mounted police, accompanied by a team of officers armed with batons and guns, marched over to the crowd of people and literally drove protesters around the block and away from the side of the museum, where the homeless advocates had planned to spend the night.
The action of the police resulted in some of the homeless advocates choosing to flee from the area, while a majority of the group decided to seek refuge on the steps of the Cathedral of St. Joseph where they ended up spending the night.
Two people were arrested that night. One person, Leo Tanner, a City Council candidate for District 3, was arrested by the police. Tanner says that, even though he has a job, the police described him as "unemployed." He said that they did not read him his rights and lost his sleeping bag. Tanner was booked and released that evening. He is a manager of a downtown apartment complex and is a community advocate. The arrestee was "Wolf" who is homeless.
It is events such as this which have outraged many in San Jose and caused some people to single out McEnery as the architect of the redevelopment policy that has led to such situations.
McEnery claims that, if he is elected to go to Washington, he will see to it that any progress made will be without "leaving anyone behind." A promise, that to many is doubtful since in San Jose, as a result of "redevelopment and master planning," many communities are now seen as "dead by design or benign neglect."
Though change is possible, a person's past behavior and priorities can often be ascertained by studying what they have done in the past.
Redevelopment in San Jose has had a tremendous impact. It has changed the image of downtown San Jose. Even the local daily, which has endorsed the former Mayor admits that the change has been wrought at great cost (over $1 billion dollars). That billion dollar plus expenditure is money that would have gone to the general funds of the City and the County for the traditional services which these two governmental agencies have increasingly been unable to provide the community. The remaining, almost fifty percent of the money would have gone to the State – for education also in serious trouble today.
The current mayor, Susan Hammer, has endorsed McEnery. It is to him that she looks for guidance in carrying out the plans for this city. A plan that McEnery and his supporters had designed.
Just recently, when the State needed to improve its own General Fund budget for education, it sought to recall some of the money that had been diverted to Redevelopment. San Jose City officials and others in the State successfully lobbied to have that money replaced elsewhere. The needed money was instead taken from other State funds-money that had been earmarked for community programs administrated by the County.
Lofgren, at the PACT meeting pointedly reflected aloud on that decision, reminding the audience about the $175 million that San Jose officials refused to give up to education and it was the Council that urged that the needed funds come from money that should have gone for State mandated, community oriented programs.
Several months ago, PACT leaders distributed a fact sheet in which they listed the spending plans for Redevelopment projects. According to their research, the Agency is planning to spend around $2 million for San Jose Best, a drug prevention program and another $4.4 million on projects that might enhance job creation while at the same time a number of big ticket items, of dubious merit, will receive at least $260 million for the 94-95 year alone. PACT is very critical of this budget that reflects the usual Redevelopment priorities.
McEnery has been criticized, as well, for a lack of fiscal responsibility while in office. For example, critics point to the Convention Center (which now bears McEnery's name) and was built while he was mayor. It went over budget by over 100%. Another criticism is that he also promised the votes that the SaN Jose arena would not cost over $100 million while asking them to vote to approve its construction.
The cost of the arena is now well over $150 million and the full cost of the arena is not yet known. According to the most recent PACT research note, the 94-95 Agency budget includes an intended arena expenditure of another $11.3 million for more parking, public art and basketball improvements.
These additional costs are not a surprise and were anticipated by the opponents of the arena. They rightfully argued that such a facility would be costly and argued that, since the team owners using the arena would be the major beneficiaries, it was they who should build such a facility rather than the taxpayers.
Redevelopment and sports advocates claim that such expenditures benefit the general population, however, with increasing frequency such claims are discredited. In a recent issue of the Atlantic Monthly, Lawrence Tabak points out in his article, "Wild About Convention Centers," that "hundreds of cities expect that their new convention centers will bring economic benefits and urban regeneration. Most cities will be left with underused facilities and decades of debt." That statement has been found to apply to publically built sports facilities as well.
Already San Joseans have listen to numerous promises of how one more subsidized downtown project will be just what is needed to "prime the pump." The citizens have witnessed the expenditure of hundreds of millions of their tax dollars going towards subsidies to some of the wealthiest people and corporations in order to lure them into downtown San Jose, only to have them quietly leave town for greener pastures elsewhere.
In downtown San Jose there are now increased numbers of restaurants and nightclubs where once there were small ethnically owned businesses and some affordable housing albeit some in a serious state of disrepair. It was that very sort of housing that was intended to be improved, not destroyed, when redevelopment law was initiated in the early sixties.
Redevelopment has been perverted by clever governmental bureaucrats and even more clever politicians who have craftily revised this legislation to suit their own peculiar vision of economic development and social engineering strategies.
The electorate has a clear choice of candidates for this important congressional seat. Lofgren has long been an advocate of health care, education and job creation and families, in particular, the children.
Lofgren served 9 years as an aid for Congressman Edwards in Washington, D.C. and has been a member of the Santa Clara County Board of Supervisors for the last 13 years. Lofgren is an attorney with a specialty in Immigration Law. Lofgren attended and graduated from Santa Clara University.
Supervisor Lofgren is married and has two young children. She says that her own personal experience of having to work her way through college and of watching her father struggle through two years of unemployment has influenced her actions, in particular at this time when many families are finding themselves struggling with unemployment and under employment.
McEnery is also a graduate of the University of Santa Clara. He taught fourth grade for a short while before he was appointed to the San Jose City Council during the Janet Gray Hayes Administration. He garnered the support of many San Joseans when he promised to "pay attention to the downtown area of San Jose." He became increasingly controversial as San Joseans began to feel the effects of the diversion of millions of dollars into downtown while, at the same time, they saw their neighborhood libraries decline from lack of attention from city officials, as did many other services that they had grown to expect, such as well-maintained roadways and other neighborhood services.
For more information on congressional candidate, Zoe Lofgren her campaign may be contacted at 280-2130. Tom McEnery's campaign may be contacted at 993-1994. © La Oferta Newspaper.