Washington DC, Mar 8 (EFE).- The president of the United States on Thursday agreed to meet with North Korea's leader, saying that he would do so by May, according to South Korean officials in Washington.

To start the talks with Donald Trump, Kim Jong-un offered the suspension of his nuclear and ballistic missile programs, South Korean representatives said in Washington.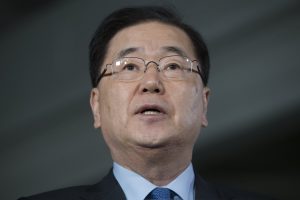 The head of South Korea's National Security Office, Chung Eui-yong, who led Seoul's delegation to Washington, delivered to Trump a letter which Kim had handed to him on Monday during their meeting in Pyongyang.

"President Trump appreciated the briefing and said he would meet Kim Jong-un by May to achieve permanent denuclearization," Chung Eui-yong told reporters.

"Along with President Trump," the South Korean envoy added, "we are optimistic about continuing a diplomatic process to prove the possibility of a peaceful resolution."

Chung also said that South Korea, the US and the rest of the allies will maintain diplomatic and economic "pressure" until North Korea "matches its words with concrete actions."

Before coming to Washington on Thursday, Chung Eui-yong had been in Pyongyang on Monday to meet with Kim, who "expressed his eagerness to meet President Trump as soon as possible."

The North Korean leader also "pledged that North Korea will refrain from any further nuclear or missile tests," and said that he "is committed to denuclearization."

Kim Jong-un and Chung Eui-yong also agreed the holding of a meeting between the North Korean leader and the South Korean President Moon Jae-in on the border between the two Koreas in April. EFE