Lima, Mar 9 (EFE).- Peruvian authorities presented here Friday close to 500 archeological and art pieces recovered in the last few months from Argentina, the United States, Mexico and the United Kingdom, where they were being kept in private collections or were circulating on the black market.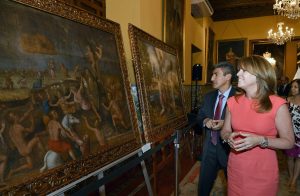 Some of the pieces include colonial-era paintings depicting Biblical scenes such as the sacrifices of Cain and Abel and The Deluge, which were removed from the Andean town of Hualahoyo.

The paintings were voluntarily handed over to the Peruvian consulate in New York by Tracey Willfong, who was in possession of the pieces.

Many archeological objects belonging to different pre-Columbian civilizations from Ancient Peru, including the Inca, Nazca, Sican and Sipan cultures, were also recovered.

The pieces were retrieved thanks to arrangements made by the Peruvian diplomatic missions in the four countries.

During the presentation of the objects, Culture Minister Alejandro Neyra put emphasis on a group of archeological pieces that were removed from the Inca citadel of Machu Picchu and returned to Peruvian authorities by Yale University.