Guiana Space Center, French Guiana, Mar 10 (EFE).- Arianespace said its Soyuz rocket successfully launched four broadband satellites into space from the Guiana Space Center near Kourou.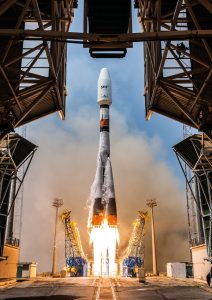 "Four additional spacecraft for SES' O3b Medium Earth Orbit (MEO) satellite constellation were orbited (Friday) by a Soyuz launch from French Guiana, supporting a long-time Arianespace customer and underscoring the medium-lift workhorse launcher's suitability for a full range of missions," the Courcouronnes, France-based company said in a statement on its Web site.

Arianespace CEO Stephane Israel hailed Friday afternoon's successful launch in a tweet.

"Flight #VS18 marked #Arianespace's fourth flight from the French Guiana carrying #O3b satellite passengers. And we're more than ready for the next one!" he wrote Friday.

The satellites will join an existing constellation of satellites operated by SES Networks and used to connect developing countries and remote places to the Internet.

SES Networks CEO Steve Collar was quoted as saying in a company press release Friday that the O3b constellation was being used to connect underserved communities and meaningfully transform lives through improved broadband access, as well as deliver state-of-the-art satellite-enabled network services to ships, planes and government platforms.