June 8, 1994
Text by Yolanda Reynolds
Photos by Mary J. Andrade
Democrats select Zoe Lofgren for the November General Election to Represent District 16 in the U.S. Congress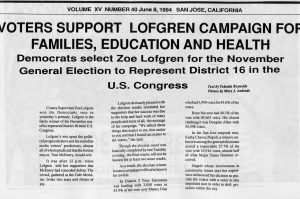 Supervisor Zoe Lofgren won the Democratic vote in yesterday's primary. Lofgren is the likely winner of the November runoff to represent District 16 in the U.S. Congress.
Lofgren's win upset the political prognosticators and the mainline media writers' predictions, almost all of whom predicted that the former mayor, Tom McEnery, would win.
It was after 12 pm. When Lofgren told her supporters that McEnery had conceded defeat. The crowd, gathered at the Cafe Meridian, broke into tears and shouts of joy.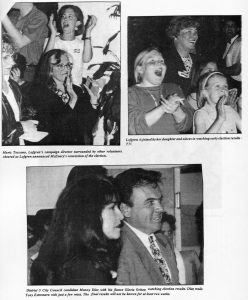 Lofgren obviously pleased with the election results reminded her supporters that her success was due to the help and hard work of many people and most of all, the message of her campaign. "We talked about things that matter to me, that matter to you and that I found out matter to the voters," she said.
Though the election count was basically completed by late Tuesday evening, the final results will not be known for at least two more weeks.
As a result, the absolute winner in some campaigns will not be known for a while.
In District 5 Tony Estremera was leading with 2,040 votes or 45.9% of the vote over Manny Diaz who had 1,940 votes for 43.6% of the votes.
Rene Navarro had 40.2% of the vote with 69,663 votes. His closest challenger was Douglas Allen with 55,498 votes.
In the San Jose mayoral race, Kathy Chavez Napoli, a relative unknown among the general electorate scored a respectable 27.7% of the vote with 24,914 votes, almost half of what Major Susan Hammer received.
Napoli whose involvement in community issues says her experience influenced her decision to provide the voters with a voice in this important race in order to shift priorities within the city.
Mayor Hammer has (with some differences) basically followed the the previous mayor Tom McEnery's priorities for the City.
Ross Signorino, a San Josean and Napoli volunteer, says "Kathy was sincere in what she wanted to do and we (the voters) lost an opportunity to stop the big machine—and now the taxpayers are going to realize that we are probably going to subsidize more theaters in downtown.
McEnery ran a campaign for Congress in which he touted the new buildings and the changes he effected via Redevelopment as his legacy and reason for voters support.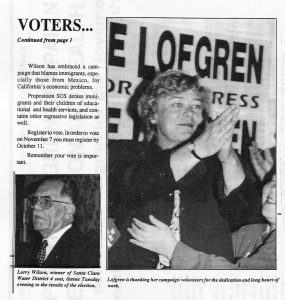 Paul Wysocki, a San Josean and long-time activist in community affairs says "Zoe's success is a message that the people of District 16 believe that the needs of families, especially children should be the highest priority and not luxurious buildings.
Jim Cantori, a San Josean whose work in the electronic business takes him all over California and is a resident of the Cambrian Park area of San Jose, says "for too long City Hall has neglected its neighborhoods." He gives as an example the roadways in San Jose. Cantori says "in my extensive travels throughout the state I have found that the streets in San Jose are in state of great neglect, even in 'redevelopment areas'" Cantori says, "just take one quick trip down First Street to 237 – you'll find the roadway very uneven and filled with potholes."
Redevelopment in San Jose has been promoted as a way to improve and maintain the infrastructure so necessary to encourage industrial and commercial development. This area of San Jose is one of the most productive industrial locations and is identified as a part of the Golden Triangle. It is the property taxes (tax increments) front this area that have been poured into the Redevelopment of downtown San Jose.
Turnout for the June's election was said to be at an all-time low. That concerns many citizens because in a democracy it is the people who give direction to elected leaders.
Efforts to improve citizen participation in the electoral process is constant but more so in the Latino/Chicano community.
This November voters will be deciding on propositions that could deprive many poor, hard working people of basic services such as education and medical services.
In San Jose, the low voter turnout tis especially alarming. In District 5 approximately 18% of all eligible voters cast a ballot. In District 5 it was slightly less. In District 7 it was even smaller turnout. These are the districts with the highest concentrations of Latino/Chicano voters, in San Jose.
Voter participation for all, in particular, for the Chicano/Latino community will be crucial in November.
In November, voters will decide if Wilson will be reelected as Governor of California or if Kathleen Brown should be his replacement.
Voters will also decide if they should accept or reject Proposition "Save our State" (SOS).
Wilson has embraced a campaign that blames immigrants, especially those from Mexico, for California's economic problems.
Proposition SOS denies immigrants and their children of educational and health services, and contains other regressive legislation as well.
Register to vote. In order to vote on November 7, you must register by October 11.
Remember your vote is important. © La Oferta Newspaper.