Washington, Mar 15 (EFE).- President Donald Trump said Thursday that "it looks like" the Kremlin was behind the poisoning of former Russian spy Sergey Skripal and his daughter in the United Kingdom, adding that the matter is being taken "very seriously."

"It looks like the Russians were behind it, something that should never ever happen. We're taking it very seriously as I think are many others," Trump said when reporters asked him if Russian President Vladimir Putin was behind the hit on Skripal.
Trump made his remarks at the start of his meeting with Irish Prime Minister Leo Varadkar.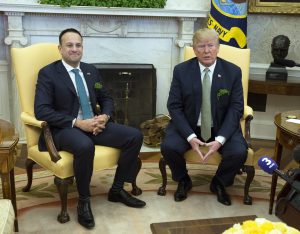 The US president said that "I spoke with the (British) prime minister (Theresa May). We are in deep discussion; a very sad situation."

Trump made his comments shortly after the Treasury Department announced the imposition of sanctions on five Russian entities and 19 of that country's citizens, its harshest response so far to the presumed Russian interference in the 2016 US presidential election.

Washington sanctioned the five entities and 19 people by blocking their access to their properties in US territory.

This is the first round of sanctions announced by the US since Congress approved a bill against Russia last year, a bill that
Trump signed but which he had not yet implemented.

"The administration is confronting and countering malign Russian cyber activity, including their attempted interference in U.S. elections, destructive cyberattacks, and intrusions targeting critical infrastructure," Treasury Secretary Steven Mnuchin said in a statement.

"These targeted sanctions are a part of a broader effort to address the ongoing nefarious attacks emanating from Russia."

The decision comes shortly after the leaders of the UK, the US, Germany and France jointly condemned the nerve agent poisoning of Skripal and blamed the Kremlin for the attack.

The sanctions imposed on Thursday come after the Trump administration's promise to punish Russia for staging the novel "NotPetya" cyberattack in June 2017, an attack that the White House called "the most destructive and costly cyberattack in history," adding that "several hospitals in the United States were unable to create electronic records for more than a week."