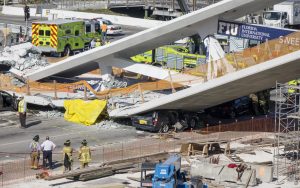 Miami, USA, Mar 16 (EFE).- An engineer with the firm that designed the pedestrian bridge that collapsed in Miami had reported cracks in the structure two days before the accident that killed at least six people, officials said on Friday.

The Florida Department of Transportation (FDOT) said W. Denney Pate, an employee of the firm FIGG and lead engineer of the project, left a voice message on Tuesday with the FDOT, which was not discovered until Friday, one day after the accident.

In the message, Pate informed the employee, who was out of the office on an assignment, of a crack in the 53-meter (174-foot) long concrete bridge, although Pate said that "from a safety perspective" he "did not see any issue there".

"Obviously the cracking is not good and something's going to have to be, you know, done to repair that," the engineer said.

The FDOT said that the responsibility for identifying and responding to safety issues was the exclusive responsibility of the bridge's design team.

The agency added that it was not aware that a stress testing was going to be conducted on the 950-ton bridge, after which the bridge collapsed.

"Per standard safety procedure, FDOT would issue a permit for partial or full road closure if deemed necessary and requested by the FIU design build team or FIU contracted construction inspector for structural testing," a statement said.

The Miami-Dade Police Department confirmed Friday morning that the death toll from the collapse had climbed to six, one of whom was a student at Florida International University.

Around 10 cars were trapped under tons of rubble as a result of Thursday's collapse of the pedestrian bridge, which was designed to make it safer for thousands of students living in off-campus housing in the Miami suburb of Sweetwater to walk to the main Florida International University campus.

Construction of the bridge began in the spring of 2017 and was due to be completed in early 2019. Last Saturday, the main span was installed over the busy Southwest Eighth Street, but the structure had not yet been opened to foot traffic.