Mexico City, Mar 16 (EFE).- Andres Manuel Lopez Obrador, a leader of the Mexican left, said here Friday while registering his candidacy for the July 1 elections that he wants to be remembered as one of the country's greatest presidents.

"I have a legitimate ambition: I want to go down in history as one of Mexico's greatest presidents," Lopez Obrador said, who is running on the ticket of a coalition formed by his National Regeneration Movement (Morena) and two smaller parties.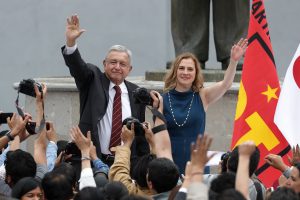 Accompanied by dozens of followers, Lopez Obrador, who is leading the polls, filed the formal registration of his candidacy before the National Electoral Institute (INE).

Lopez Obrador said his aspirations "live up to" those of Benito Juarez, Francisco I. Madero and Lazaro Cardenas, three presidents who held office at crucial moments in Mexican history.

Juarez was president during the 1864-1867 war with France, Madero fought against the 1884-1911 Porfirio Diaz dictatorship and Cardenas ordered the 1938 oil expropriation.

The left-leaning candidate said that, as president, he would eliminate immunities and privileges and propose a constitutional reform so that a sitting president could be put on trial for corruption and electoral crimes.

He told his followers to be confident and that he would always live up to his principles "of not lying, not stealing and not betraying the people."

"We will win and together we will make history," he concluded, invoking the name of the coalition for which he is running.

The Mexican presidential campaigns will take place from March 30 to June 27, while the election, in which the presidency and 3,400 other positions in 30 of country's 32 states are at stake, will take place on July 1.