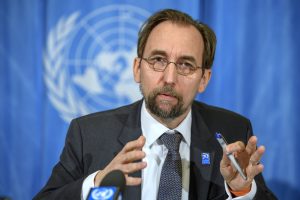 United Nations, Mar 19 (EFE).- The United Nations High Commissioner for Human Rights on Monday condemned the brutality of the Syrian conflict as well as the impunity that characterizes it.

"The Syrian conflict has been characterized by its absolute disregard for even the most minimal standards of principle and law," Zeid Ra'ad Al Hussein said in a speech at the UN headquarters.

The High Commissioner spoke at an informal meeting of the UN Security Council (UNSC) on Monday, after Russia and other member countries opposed him doing so at a formal meeting.

In his speech, Zeid criticized the UNSC and other international bodies for not having taken measures to respond to the situation in Syria and stressed that this "failure is deeply consequential."

"The Syrian conflict, and the impunity that characterizes it, is breaking our world," the Jordanian diplomat said.

Zeid condemned the "unspeakable cruelty" of this war, the resulting massive displacement of victims, the involvement of outside powers and "the failure of international institutions to take decisive measures to uphold international humanitarian and human rights law."

Such fiascos, he recalled, "have shaken the Middle East, shifted the political landscape of other regions, set back decades of work to establish minimal standards of decency in warfare, and given rise to grave concerns regarding the future of human rights, peace and security."

Zeid, as he has been doing recently, insisted that the war crimes committed in Syria must be tried.

"No settlement which shields the perpetrators from prosecution is worth discussing," he said.

In addition, the High Commissioner was very critical of every party involved in the conflict, including the Syrian government, which he accused of "torturing and indiscriminately killing" its own citizens and of not having any credibility.

The UNSC listened to the High Commissioner at an informal meeting, after Russia, with the support of several countries during the voting procedure, had managed to block a formal session on the human rights crisis in Syria.

Together with Russia, China, Bolivia and Kazakhstan voted against the session, while Ethiopia, Cote d'Ivoire and Equatorial Guinea abstained.

The eight votes in favor – from France, the United States, the United Kingdom, Sweden, Poland, Peru, the Netherlands and Kuwait – were not sufficient as such decisions require the support of nine Council member States.

Faced with this situation, several of those countries decided to organize the informal meeting in which Zeid spoke and Russia also eventually participated.

The Russian delegation, for its part, also criticized the High Commissioner, accusing him of not being impartial and of not properly raising his voice adequately on the actions of the US and its coalition against the Islamic State (IS) in Syria.