June 15, 1994
Text by Yolanda Reynolds
Photo by Mary J. Andrade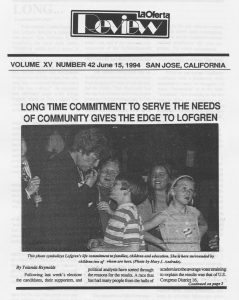 Following last week's election, the candidates, their supporters, and political analysts sorted through the reasons for the results. A race that has many people from the halls of academia to the average voter straining to explain the results was that of U.S. Congress District 16.
In that contest, County Supervisor Zoe Lofgren defeated a former San Jose mayor, Tom McEnery. In bold headlines, the local daily states, "Underdog upsets ex-SJ. mayor in 16th District."
Prior to the election, La Oferta quoted Hank Rosendin, a San Josean and retired Parks and Recreation Director for the City of San Jose, who said, "this election will afford the voters of San Jose a choice." He explained that McEnery made some things happen, where as Zoe Lofgren had consistently proven a greater sensitivity to human needs.
To many San Jose voters Lofgren was not an "underdog" and the election results demonstrated that they were right. In spite of important endorsements from significant special interests that included the local daily, and other downtown interests who collectively make up the "old boys" network and provided McEnery with an enormous campaign chest — the voters were not swayed and remained loyal to Lofgren.
McEnery and his supporters attempted to capitalize on his achievements as Mayor. He tried to built on those achievements, as well as to emphasize his reputation for getting his way even when there was opposition.
His use of the enormous powers of the mayor's office and his record of "achievements" did not impress the San Jose electorate because those achievements came at huge expenses in both taxpayer dollars and human grief.
There are many examples of McEnery forging ahead with ideas all containing a fatal flaw. He would show his disregard for an inclusive governmental process and a genuine lack of concern for the impacts of his decisions upon the people.
The location which he insisted upon for the San Jose arena was one of such decision. That experience left many residents in the nearby neighborhoods very upset when it became apparent that a report of serious environmental impacts would be disregarded in order to locate the arena just a few short blocks from property owned by McEnery and his family.
That controversy added to his problems as more and more citizens became informed of what "redevelopment" was, and of the very real consequences of the Redevelopment Agency Board's (mayor and rest of the City Council) decisions to people and the City and County budgets.
The citizens discovered that redevelopment was taking money away from the general funds of both the city and the county. They discovered that the city had not been following proper procedure in determining how to "redevelop" a project area. Missing were project area committees made up of the residue living or doing business in the project area. Had the affected residents been included in the decision
making it likely that thousands of people would not have been driven out of downtown San Jose. Most of these people so affected were people of color, long-time San Jose residents, and poor.
When the violation of the legal requirement for "project area committees" was made an issue, the Redevelopment Agency attorney was fired, even though he was not responsible for oversight since the city had ignored that requirement for years.
In his campaign to promote the Arena which was voted upon by San Joseans, McEnery repeatedly promised that the cost of its construction would not exceed $100 million. It's cost – without debt service ­– today will likely exceed $200 million. To date, there has not been a full accounting of the costs of the Arena. To add insult to injury, a sweetheart contract was signed with the Shark hockey team owners that virtually turned the Arena over to them for a net revenue loss ­at the same time that the city has had to make major budget cuts to essential city services such as street maintenance, libraries, and parks.
The opponents of the Arena predicted the overrun and opposed the Arena's location for many reasons. But, with the City Council (Agency Board) steadily reducing the community services expected by the citizenry such as adequate library services, street sweeping, tree trimming, code endorsement, street lights, adequate staffing for fire and crime prevention as well as timely street maintenance, the mayor and his supporters claimed national prominence was more important. The voters did not want to return to the past – there are today other more pressing problems that need attention.
While he was mayor – McEnery continued with a leadership style described by many as "arrogant," at worst, "insensitive" or at the least, "impatient." For example, in his last term in office, he unexpectedly announced that he was going to convert a Spanish language movie theater into a home for an "upscale" local theater group.
It soon became apparent that he had not bothered to speak to the owner of the building before he made that announcement.
That declaration mused quite a furor for a variety of reasons. There was the issue of property rights, but even more controversial was the real symbolic gesture of removing from the downtown area one of the last visible businesses that catered to the Hispanic market. Small businesses, especially ethnically owned and oriental shops, had been described by City Redevelopment staff as being "poorly operated and not viable in the new downtown" – and as such should be removed by redevelopment. Such comments verified for many what they had long suspected and that was that poor people and ethnic communities were not welcomed in the newly re-developed downtown.
For San Joseans, these shops not only provided a unique attraction but actually provided useful services to the diverse San Jose population. Ironically, the Pavilion which was to replace those small businesses, has been an admitted failure and gone through various rebirths at City (taxpayers) expense only to fade away for lack of business.
The Studio theater ultimately was not forced to close down then but as more and more low income and affordable housing was removed from downtown the theater patronage disappeared and it has recently become an English language theater.
Another major flap during the McEnery years occurred when he pressed hard for the erection of a statue depicting an early day Mayor of questionable character, Thomas Fallon, on a horse carrying the US. flag in conquest. This proposal was found to be a direct insult to many in the Latino Chicano community, since McEnery was erecting a statue to a person he erroneously credited with raising the American flag over what was in then Mexican territory.
McEnery, who until then had described himself as an "historian," as did the local daily – was found to have left out, ignored or did not know the history of those days when he wrote a book about the one-time mayor Thomas Fallon. Scholars and historians came from all over the state to refute many of the claims in the story of "Captain Fallon," which McEnery had described as "true."
The book, entitled "California Cavalier," no longer purports to be a "true account," based on a diary the author claimed had been discovered when it fell from behind a chimney brick of a fireplace in the living room of the old Fallon house.
The controversy became so heated that it even made the pages of the New York Times. Even with the months of controversy and subsequent revelations by respected historians, McEnery insisted upon the restoration of the "Fallon Home" at a cost of over $6 million. Initially he claimed that the restoration would cost "$1.5 million."
The house is now open for tours but the Fallon statue remains in storage "somewhere in Oakland." The statue cost another $1 million. A "friend" is paying for the "storage."
Every one of these controversies affected a different segment of the community, from neighborhoods trying to protect their quality of life and all that represents. For others, it was the opportunity to live in San Jose especially of they were poor; to small business advocates who found their favorite taquería or Vietnamese deli gone, it indicated the lack of respect for the diverse population of San Jose. Perhaps even more significantly, many decried the lack of respect for a basic tenant of democracy – the expectation and requirement for citizen participation in governmental decision making.
Adherence to process and proper credit to the ideas of others is essential for continued leadership. A democracy is based upon citizen participation and is jealously guarded by a significant number of the voting public, hence the results.
The local daily, the San Jose Mercury News, never left any doubt to its readers as to whom they supported, even before they announced their endorsement. The newspaper has come under severe criticism by many for its lack of sensitivity to the Latino community and its "biased" news accounts.
An example of that bias is the unquestioning acceptance of the claim that McEnery had not lost an election in 14 years. That is true, however, in all but one election – for Mayor he ran as an incumbent a tremendous advantage in running for office. He came to the City Council as an appointment. He was appointed, at a very young age, to the City Council by then Mayor Janet Gray Hayes.
Hayes was the first female Mayor of San Jose and is still active in civic affairs that includes her involvement in women's issues. Hayes was an early and active supporter of Lofgren.
The local daily says that "McEnery rarely mentioned Lofgren." There are likely reasons and none was made and it is not his version to "negative" campaigning. His named was recognized by 40% of the voters while only 20% of the voters recognized Lofgren's name so it is logical that he would not have wanted to give Lofgren name recognition even in criticism.
McEnery's relationship with women is interesting especially if they differ with him. City Councilwoman Blanca Alvarado had to face an opponent for her second term in office. McEnery urged the current District 5 candidate Tony Estremera to run against Alvarado. Another councilwoman, Nancy lanni, experienced McEnery's wrath when McEnery recruited Ken Machado to oppose her. This race became very bitter, nasty and costly, it was women, including Zoe Lofgren, who came to Ianni's support. Ianni won. Alvarado was another of the women who came to Lofgren's side when she announced her candidacy for District 16.
Ultimately, enough people had a reason to reject the influence of powerful interests and voted instead to support a candidate who has had, as a priority, people, in particular children and their parents, education and health.
Sofia Mendoza, a long-time community advocate and social worker, says of this campaign – "l watched this campaign very closely and listened to his (McEnery's) remarks on T.V. He never once gave credit to others. He would say 'I' built the Fairmont, 'I' built the arena, 'I' built the convention center… When the local daily said that the two candidates were similar, I did not see that similarity. When I would go before the City Council on issues of community services they were talking buildings. When I would go before the County on issues of community services they are talking people. I felt that when I went before the Board Supervisors I had an audience but – before the San Jose City Council it was as if they did not care".
Mendoza explains, "many times I appeared before the Council and not once did he say that he would like to sit down and say let's talk about the human beings that will be affected by my decision – he acted as if he owned downtown."
Mendoza adds, "I was terrified of the thought of McEnery alone in Washington, D.C. What would he have done – he did not have a good relationship with the common people and in particular the minority community, and poor people." She adds, "with Don Edwards – we had faith in him. He was accountable and very responsible."
Mendoza added that she was saddened that Fernando Chavez, on behalf of McEnery, would claim that his late father Cesar Chavez would have endorsed McEnery. Mendoza says that she spent over 45 minutes talking to the elder Chavez, who testified at the hearing regarding the MN bias in matters relating to the poor communities and the Latino/Chicano community, and that in that conversation, the elder Chavez expressed concern for the families that had been displaced, first for the new convention center in downtown San Jose and again for the lake (Confluence Lake) that was to be built at the confluence of the Guadalupe and Coyote Creeks near River street. In addition, Mendoza says that Chavez had a policy of not endorsing candidates or issues that did not have a direct impact on the UFW (United Farm Workers and their cause.
Mendoza says that many of the families who were displaced because of the Redevelopment of downtown no longer live in San Jose.
Another long-time community advocate, Ernestina Garcia, says the same thing. Garcia says that an acquaintance of hers remembers San Jose with tears of sadness and bitterness. This woman and her husband now live in Los Baños after the City's relocation assistance was insufficient and they were forced to leave San Jose for lack of affordable homes to purchase when he home was condemned to build the "lake". Since this happened Garcia says that her friend's health and that of her husband has deteriorated. They are now in their 50's.
The San Jose Convention center that went 100% over budget was renamed for McEnery. Since some of his supporters wanted to drop the name San Jose from the name a compromise was agreed upon and the new convention center's official name is "San Jose McEnery Convention Center."
A San Jose State University political prognosticator, Larry Gersten, claims that his poll indicates that "the poor, less educated and female voters supported Lofgren." The limited poll that he conducted is likely no more accurate than his predictions that McEnery would win. What he and others have not mentioned is that, in elections where there is small a small turnout, it is the more informed, concerned and more affluent citizens who vote. Lofgren's success is encouraging in that this vote is a likely sample of the sentiment of the larger population and such indicates good will towards their fellow city residents and a concern for families, in particular the needs of children, and health care – all issues to which Lofgren has dedicated her years in public service.
Lofgren will be on the November ballot. Her opponent in the November General Election is Republican Lyle Smith.
Lofgren's campaign headquarters can be contacted at 280-2130 for more information. © La Oferta Newspaper.