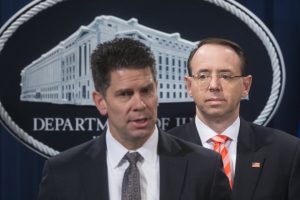 Washington, Mar 23 (EFE).- The United States imposed sanctions Friday on 10 Iranians and an Iranian organization, all related to the Islamic Revolutionary Guard Corps (IRGC) of that country, for the massive theft of valuable data from hundreds of universities, private firms and government agencies worldwide.

Through the Treasury Department and the Justice Department, the US government established penalties Friday on the suspected perpetrators of the cyber attack, through which 31.5 terabytes of sensitive data were appropriated from universities, US and United Nations agencies, as well as from private companies.

According to US authorities, the sanctions consist of freezing all the suspects' assets under US jurisdiction and banning them from doing business with Americans.

Deputy Attorney General Rod Rosenstein told a press conference that "the Department of Justice will aggressively investigate and prosecute hostile actors who attempt to profit from America's ideas by infiltrating our computer systems and stealing intellectual property. This case is important because it will disrupt the defendants' hacking operations and deter similar crimes."

The organization to be sanctioned is the Mabna Institute, which was supposedly subcontracted by the IRGC to carry out these cyber intrusions, and committed the data theft for private profit.

The institute was founded in 2013 to aid Iranian universities and research companies obtain foreign scientific information and intellectual property, according to the US Treasury Department.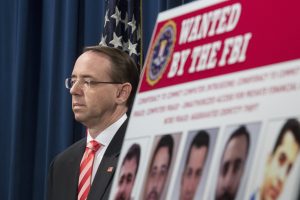 Among the individuals sanctioned were nine Iran-based "leaders, contractors, associates, hackers-for-hire or affiliates of the Mabna Institute" who engaged in "malicious cyber-enabled activities related to the significant misappropriation of economic resources or personal identifiers for private financial gain," the Treasury said.

The tenth affected was an Iranian who illegally hacked a US media and entertainment company, from which he tried to extort $6 million.

With regard to the academic and research institutions from which data were stolen, the United States said that 14 universities on its territory and another 176 overseas had been the hackers' cyber victims.

The massive theft struck organizations in 21 countries besides the United States, including Australia, Germany, Ireland, Italy, South Korea, Spain and Turkey.

"Today, in one of the largest state-sponsored hacking campaigns ever prosecuted by the Department of Justice, we have unmasked criminals who normally hide behind the ones and zeros of computer code," said Geoffrey Berman, US attorney for the Southern District of New York.