Washington, Mar 24 (EFE).- A million people, mostly students, poured into the streets Saturday in 800 cities and towns across the US to demand greater control over access to guns in a country that has more shootings in schools than anywhere else in the world.

Some thought the fervor shown by the country's young people could bring change.

"Today is the beginning of a bright new future for this country. And if you think today is good, just wait for tomorrow," Cameron Kasky, one of the survivors of the school shooting at Marjory Stoneman Douglas High School in Parkland, Florida, that left 17 people dead, told the huge crowd gathered in Washington.

He said he's been asked if he thought "any change will come from this," and gave the answer to his fellow students: "Look around…we are the change."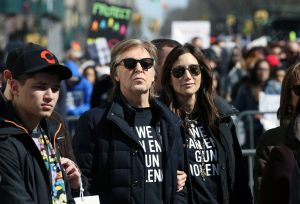 Kasky, 17, and some other students from his high school organized the "March for Our Lives," which brought together more than half a million people in the nation's capital, according to local media, to demand that measures be taken to end gun violence.

The current national debate on the right to bear arms goes back to last Feb. 14, when Nikolas Cruz, 19, opened fire on his former school in Parkland with an AR-15 assault rifle, killing 14 students and three teachers.

"I'm afraid to go to school knowing that this is happening so much right now, it's very sad. We want a solution now," Dayana Batres, 14, a student at Albert Einstein High School in North Kensington, Maryland, who joined in the protest with her mother and two sisters, told EFE.

"Arming teachers will not work," said student activist Edna Chavez, 17, in Los Angeles about a suggestion from US President Donald Trump. "More security in our schools does not work. Zero tolerance policies do not work. They make us feel like criminals. We should feel empowered and supported in our schools,"

For Forrest Christoffers, a student at Florida State University, the attack on the school in his state "unfortunately" didn't surprise him.

"In Florida we had the shooting at the Pulse discotheque, a few months ago there was another in Las Vegas and then in Parkland. These things happen so regularly they don't surprise you, and I believe they could easily happen again," Christoffers, who had to stay in hiding two years ago in his university library because of an "active shooter" on campus, told EFE.

In other cities around the country like Boston, New York, Miami and Los Angeles, more than 150,000 demonstrators in all, according to the organizers, asked the US Congress and Trump to do something to keep gun violence out of schools

So far this year, 33 gun incidents have occurred in US educational institutions, including times when no one was wounded, according to data of the Everytown for Gun Safety organization.